Spicy Chipotle Hot Chocolate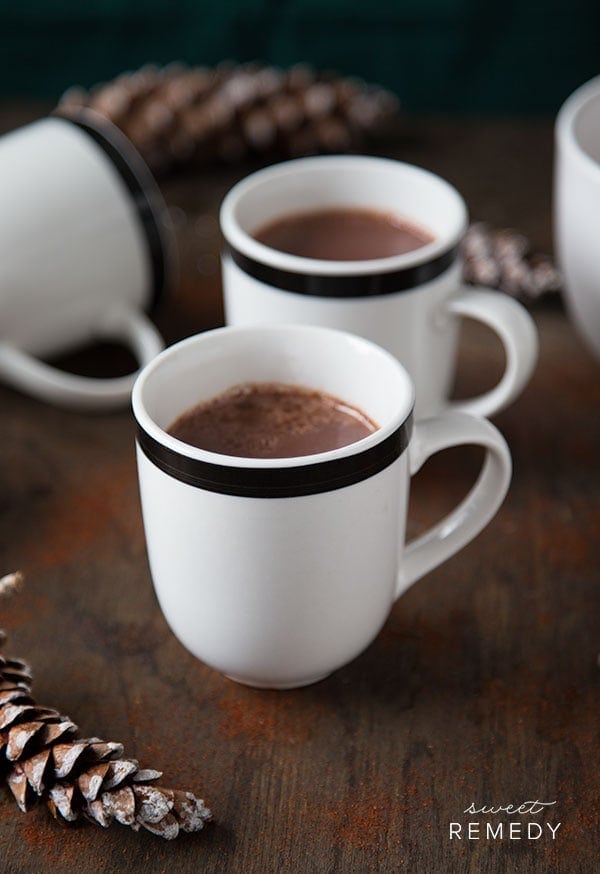 Spicy Chipotle Hot Chocolate! I totally went there. I'm a bit crazy for all things chipotle flavored right now and it seemed only logical to pair it with a steaming hot cup of melted chocolate and milk.
Do you call it hot cocoa or hot chocolate? Is this a regional thing? Where are you from? I have so many questions that need answers!
Whether you call it hot chocolate or hot cocoa, you can't deny that it's good.
This drink is great for people who like sweet and spicy flavors mixed together because it does just that. Your first taste is the sweet chocolate and then the chipotle will pop up out of nowhere and show your tongue whose boss. It lingers on your taste buds until you take your next sip.
Throw a little dollop of real whipped cream on top and sprinkle sparingly with more ground chipotle spice!
You know I'm all over that next time I make this spicy chocolate treat.
Be aware, gentle viewers, I'm currently crushing on chipotle. There may or may not be multiple upcoming chipotle posts.
I'm warning you, this drink is rich and creamy and you probably won't need more than a small glass to satisfy your spicy chocolate cravings.
If you aren't a big fan of the sugar and spice thing then you may want to make this Peanut Butter Hot Chocolate instead.
So get in the holiday spirit, grab some chocolate, milk and spicy chipotle goodness and make this hot chocolate!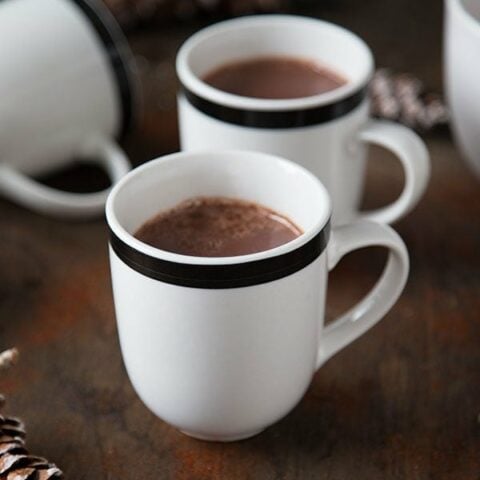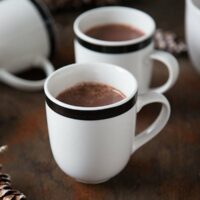 Yield: 2-3 small mugs
Spicy Chipotle Hot Chocolate
This Spicy Chipotle Hot Chocolate Recipe is great for winter weather and the holiday season. Filled with sugar and spice and everything nice! Feel free to replace the whole milk with your choice of almond or soy. You can top this off with a dollop of real whipped cream and sprinkle some chipotle and cinnamon on top.
Prep Time 10 minutes
Cook Time 20 minutes
Total Time 30 minutes
Ingredients
2 1/2 cups whole milk
2/3 cups semi-sweet chocolate chips
1/4 tsp ground chipotle
1 tsp ground cinnamon
Instructions
In a medium sauce pot, heat milk on low and simmer.
Once milk is heated, add the semi-sweet chocolate chips and stir until melted.
Mix in the chipotle and cinnamon and stir until well combined.
Mix vigorously to help the ground spices dissolve. 
Remove from heat, pour into a large measuring cup with a spout for easier pouring or individual cups ready for serving. 
Nutrition Information:
Yield:
2
Serving Size:
1
Amount Per Serving:
Calories: 470
Total Fat: 27g
Saturated Fat: 16g
Trans Fat: 0g
Unsaturated Fat: 9g
Cholesterol: 31mg
Sodium: 138mg
Carbohydrates: 53g
Fiber: 4g
Sugar: 47g
Protein: 12g
Nutrition information isn't always accurate. You may want to spot check this information.