Gluten Free Double Chocolate Brownies
These gluten-free double chocolate brownies are double the chocolate punch with cocoa powder and semi-sweet chocolate chips. Don't you love it when there are whole chocolate chips in a brownie recipe? They get a little bit crunchy and melty at the same time. How is that possible?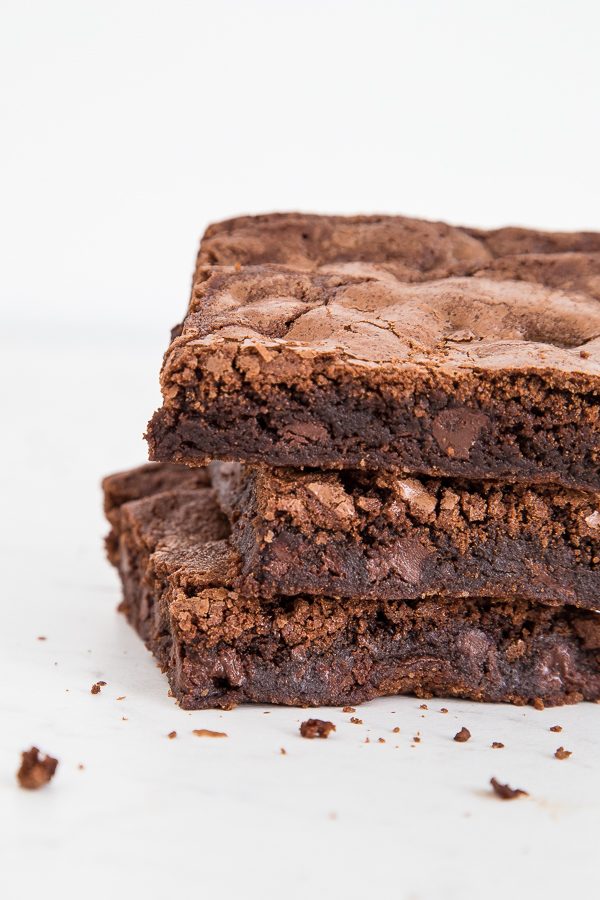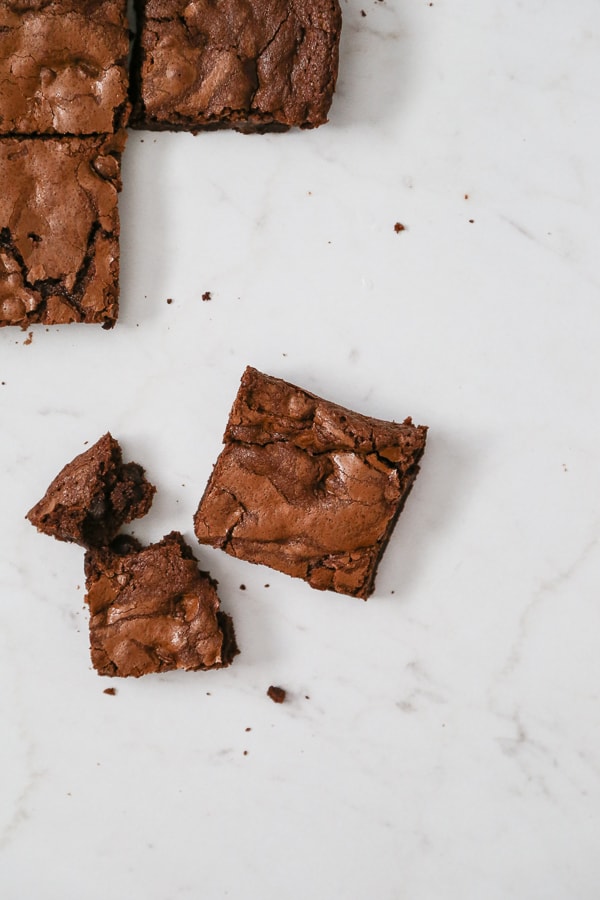 When I finished making these brownies I was really proud. Not only had I made my favorite dessert gluten-free, I also accomplished the ever elusive task of making them cakey and fudgey at the same time.
I added baking soda to the dry mixture to get the crackle on the top of the brownie. For years I longed for boxed brownies because of that crackle. I always tried to figure out a way to do it myself from scratch. Who knew it was as easy as adding baking soda. Now you do!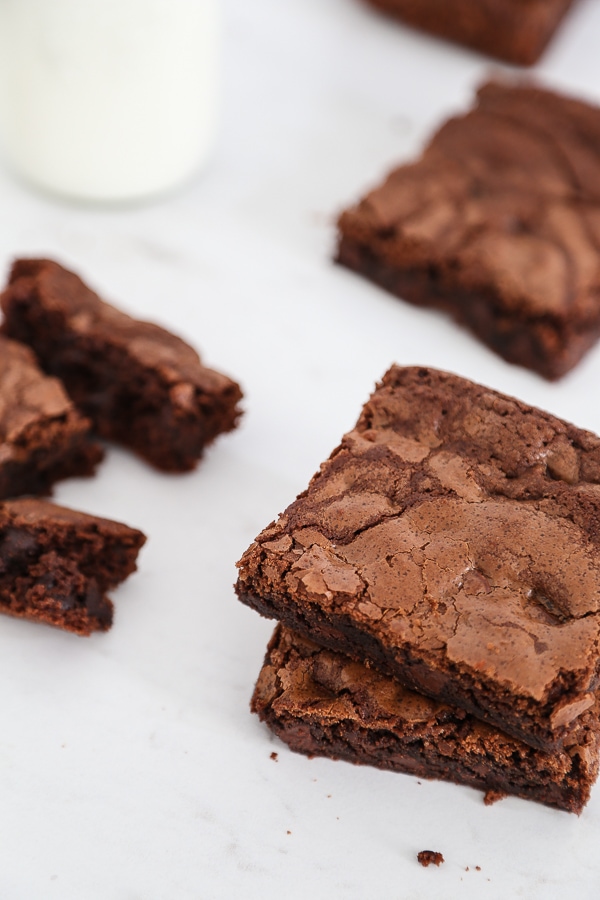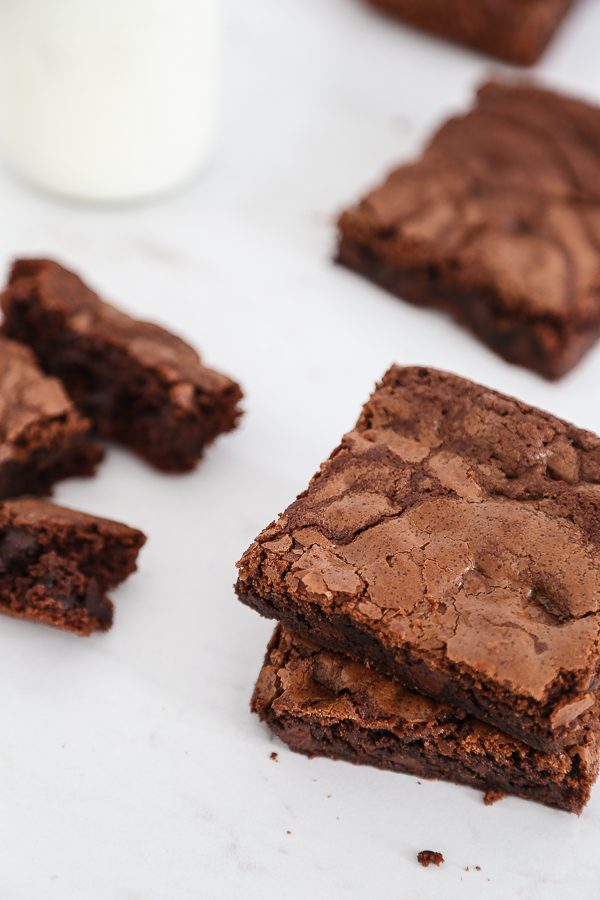 When you're making these brownies, coat the chocolate chips with a tiny bit of flour before you mix them in. It helps them not sink to the bottom.
It's amazing how a chocolate chip can get melty and crispy at the same time in a recipe like this. It's pretty special.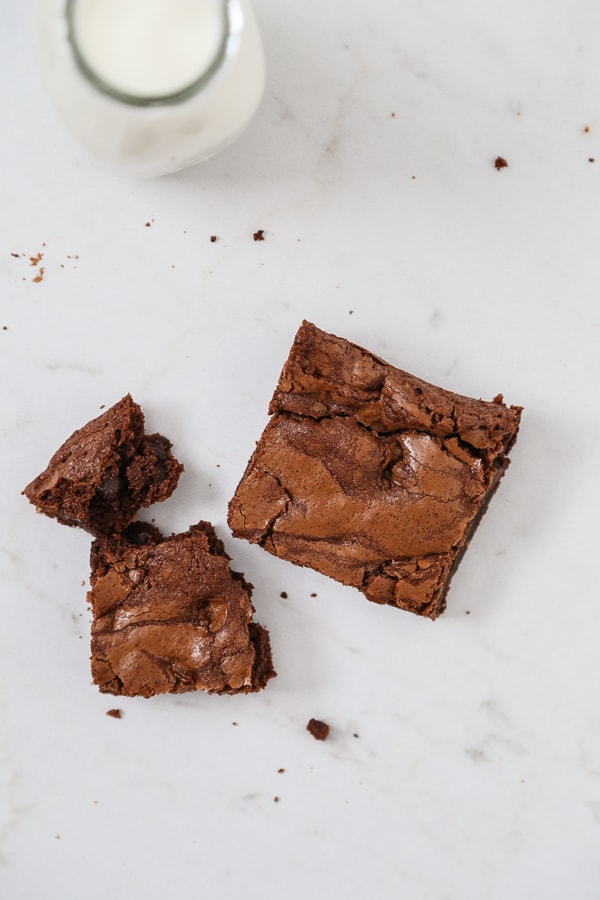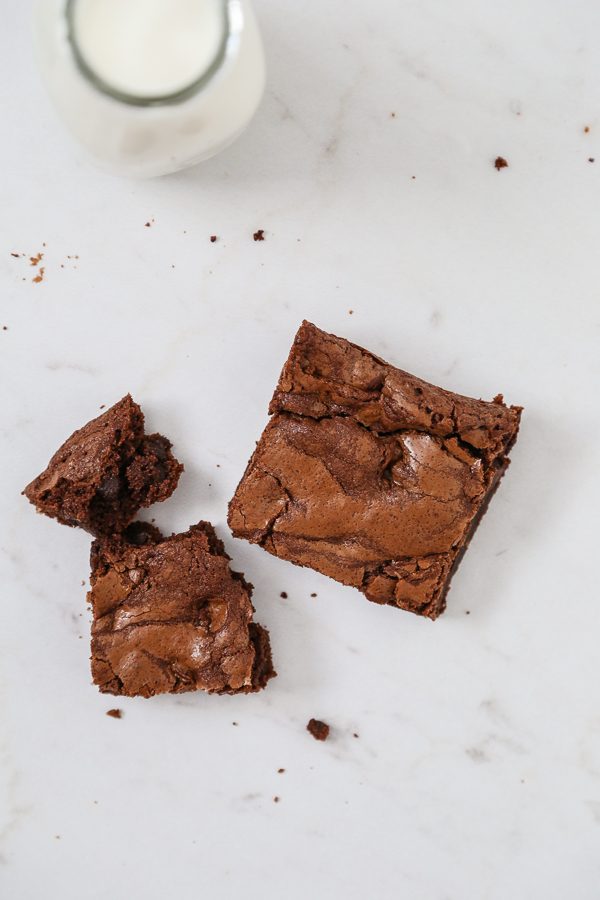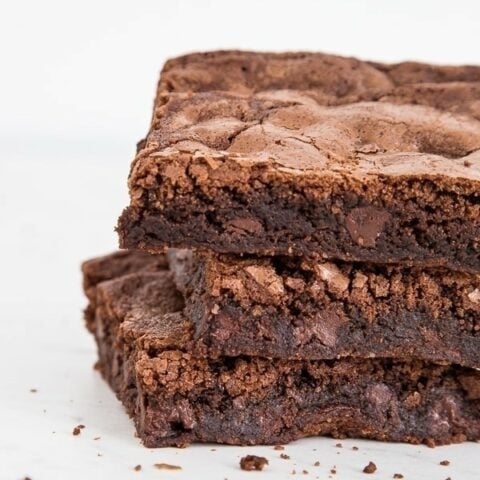 Yield: 9 servings
Gluten Free Brownies
These brownies were made gluten free using a gluten-free all purpose flour mix. Feel free to use any brand 1:1 gluten-free flour such as Bob's Red Mill. Make sure if you need this to be completely free of gluten that you mindfully purchase your ingredients. If you are using an already mixed all-purpose gluten-free flour from the store, you won't need to add xanthan gum as I did in this recipe.
Prep Time 30 minutes
Cook Time 40 minutes
Total Time 1 hour 10 minutes
Ingredients
3/4 cup all purpose gluten free flour
1/2 cup cocoa powder
1/2 teaspoon salt
1/2 teaspoon baking soda
1/2 teaspoon xanthan gum (unless you are using a 1:1 flour mix)
1/2 cup butter
1 egg
1 1/2 cup unrefined or coconut sugar
1/2 teaspoon gluten-free vanilla extract
Instructions
Preheat oven to 350 degrees F.
Prepare a 8x8 pan by generously greasing it with butter.
Set pan aside. In a large bowl, combine the flour, cocoa powder, salt, baking soda and xanthan gum.
In the bowl of a stand mixer, cream together the sugar and melted butter using the beater attachment.
Beat the egg into the sugar and butter.
Add the gluten free vanilla extract.
Slowly add the dry mixture into the wet and mix on a low speed.
Lightly coat the chocolate chips with some flour and add into the mixture.
Once fully incorporated, spread mixture onto the prepared pan.
Bake for 20 minutes or until a toothpick or tester come out of the center of the brownie pan clean.
Remove brownies while slightly gooey. Let cool in pan and remove. Cut with a knife and serve.
Notes
If you are using an already mixed all purpose gluten free flour from the store, you won't need to add xanthan gum as I did in this recipe.
Recommended Products
This post contains affiliate links. I will make a small commission if you make a purchase through one of these links, at no extra cost to you.
Nutrition Information:
Yield:
9
Serving Size:
1
Amount Per Serving:
Calories: 343
Total Fat: 11g
Saturated Fat: 7g
Trans Fat: 0g
Unsaturated Fat: 3g
Cholesterol: 48mg
Sodium: 277mg
Carbohydrates: 56g
Fiber: 2g
Sugar: 32g
Protein: 5g
Nutrition information isn't always accurate. You may want to spot check this information.