Acorn Squash Donuts
These acorn squash donuts are a unique and fun way to bring fall flavors into your baking.
Are you sick of pumpkin?
I personally still love pumpkin flavors but I do find that it overshadows other fall tastes such as acorn and butternut squash!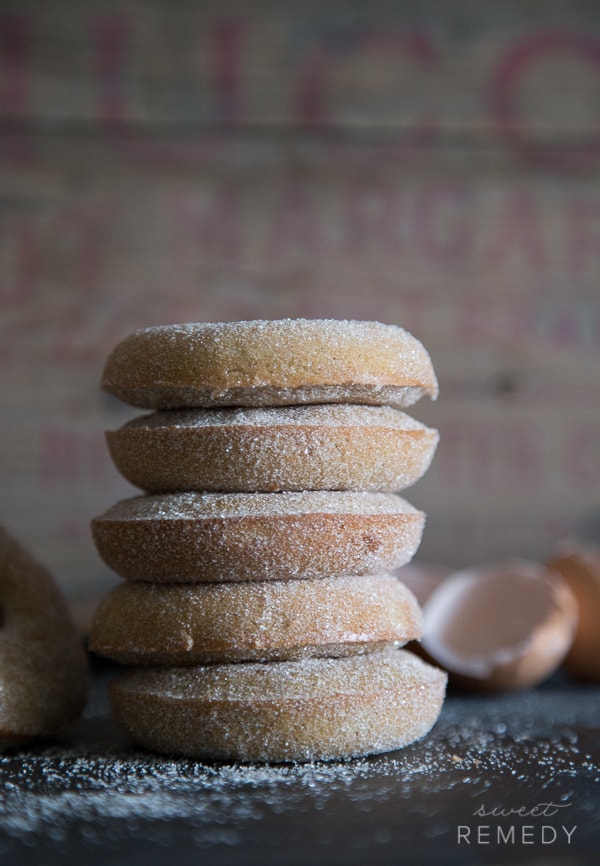 How do you spell donuts?
Doughnuts?
Donuts?
Is there a correct way or is it personal preference?
Is it a dialect thing like colour and color or favourite and favorite?
I do not know! Either way, these Acorn Squash Donuts are out of this world.
I'm a big fan of squash.
Bring on the butternut, kabocha, spaghetti, and acorn!
This recipe uses acorn squash in place of pumpkin and a cinnamon-sugar mixture that each donut was shaken in once baked and cooled.
While also good without this coating, it brought a lot of texture to the finished product.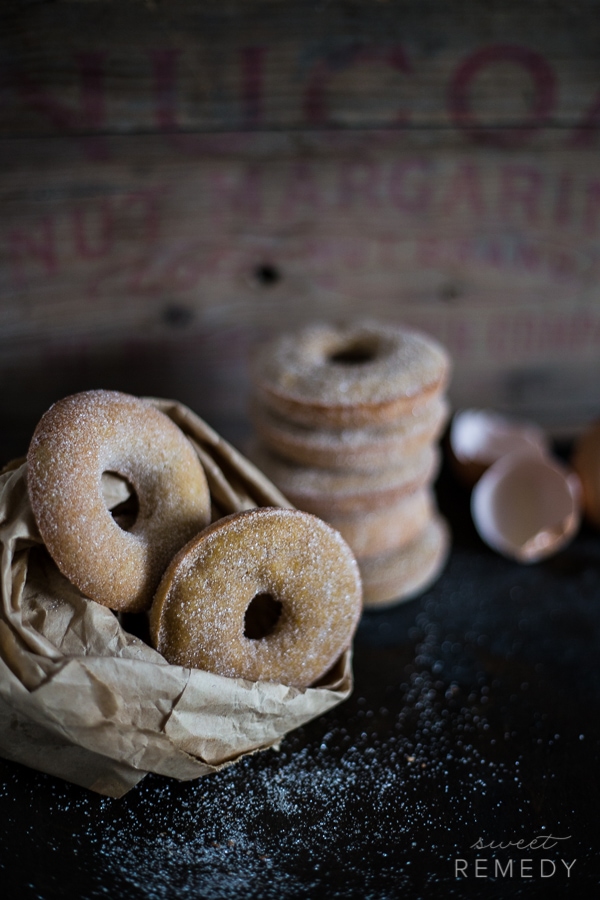 Can you say: "holy-crap-that's-good!"?
I did! I imagine dunking these in coffee would be fantastic.
I'm currently making a mental note to try that very soon!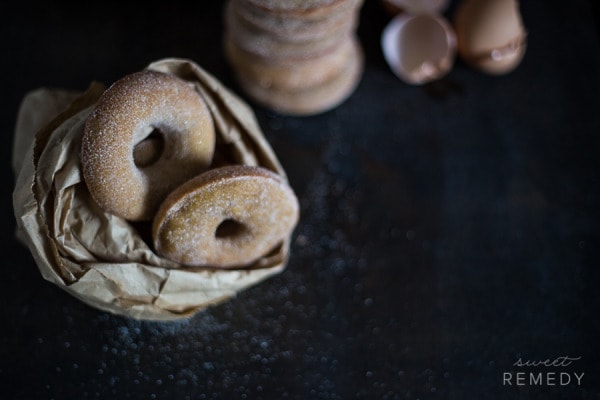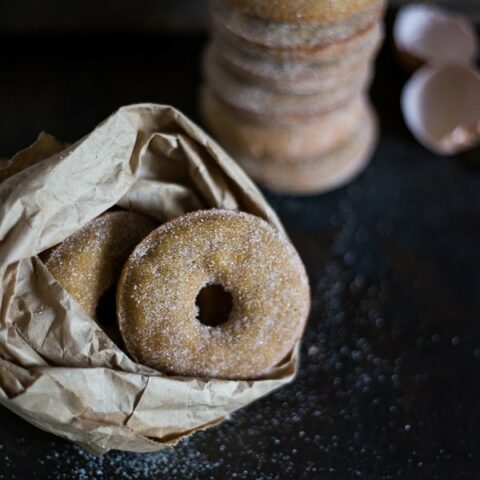 Yield: 12
Acorn Squash Donuts
If you don't have a donut pan you can turn these into acorn squash muffins by filling a muffin tin and baking for bake for 23 to 25 minutes.
Prep Time 30 minutes
Cook Time 30 minutes
Total Time 1 hour
Ingredients
acorn squash puree
1 cup water
2 small acorn squash
1 Tbsp butter, melted
pinch of cinnamon
donuts
1/2 cup vegetable oil
3 large eggs
1 1/2 cups granulated sugar
1 1/2 cups acorn squash puree
3/4 teaspoon ground cinnamon
1/4 teaspoon ground nutmeg
1/4 teaspoon ground ginger
1 1/2 teaspoons salt
1 1/2 teaspoons baking powder
1 3/4 cups All-purpose flour
cinnamon sugar mixture
1 cup sugar
2 Tbsp cinnamon
Instructions
acorn squash puree:
Preheat the oven to 350 degrees F.
Pour one cup of water into a baking pan and set aside.
Cut each acorn squash in half. pour or brush the melted butter onto all four halves.
Sprinkle cinnamon on top and place in baking dish, face down. (If you want to place face up, you can do that too.
The cinnamon will stay in tact (for the most part) either way.) Bake in the preheated oven for 30-40 minutes, or until the flesh is tender.
Scoop the flesh out of the shell and add to a blender or food processor and puree until smooth with 1/2 Tbsp of water.
donuts:
Whisk together the granulated sugar, cinnamon, nutmeg, ginger, salt, baking powder and flour.
Add in the wet ingredients: vegetable oil, 3 eggs, acorn squash puree and mix until combined.
Grease a donut pan with butter or baking spray.
Use a small cookie scoop to add the donut batter to the pan.
Fill wells 3/4 full. You can also use a piping bag to fill the wells! It's really easy and mess free.
Bake the donuts for 12-15 minutes or until a toothpick comes out clean and the donuts spring back to your touch.
Remove from oven and let cool for a few minutes before loosening the edges and removing from the pan.
cinnamon sugar mixture:
Combine the cinnamon and sugar in a small bowl and transfer to a paper or plastic bag. Even a container with a lid would work for this.
Once donuts are cooled, place them one at a time into the bag or container.
Closing the lid or holding the bag closed, shake until the donuts are coated. Depending on the size of your bag or container, you may be able to coat two donuts at a time.
Recommended Products
This post contains affiliate links. I will make a small commission if you make a purchase through one of these links, at no extra cost to you.
Nutrition Information:
Yield:
12
Serving Size:
1
Amount Per Serving:
Calories: 372
Total Fat: 12g
Saturated Fat: 2g
Trans Fat: 0g
Unsaturated Fat: 9g
Cholesterol: 49mg
Sodium: 355mg
Carbohydrates: 66g
Fiber: 4g
Sugar: 42g
Protein: 4g