Pumpkin Spice Pecan Bread
Pumpkin Spice Pecan Bread, I can't get enough of it. Made with good for your ingredients. Dairy-free, unless you slather it with butter once sliced. It's versatile, eat it with coffee as a dessert or alongside your breakfast orange juice, or coffee because let's be real.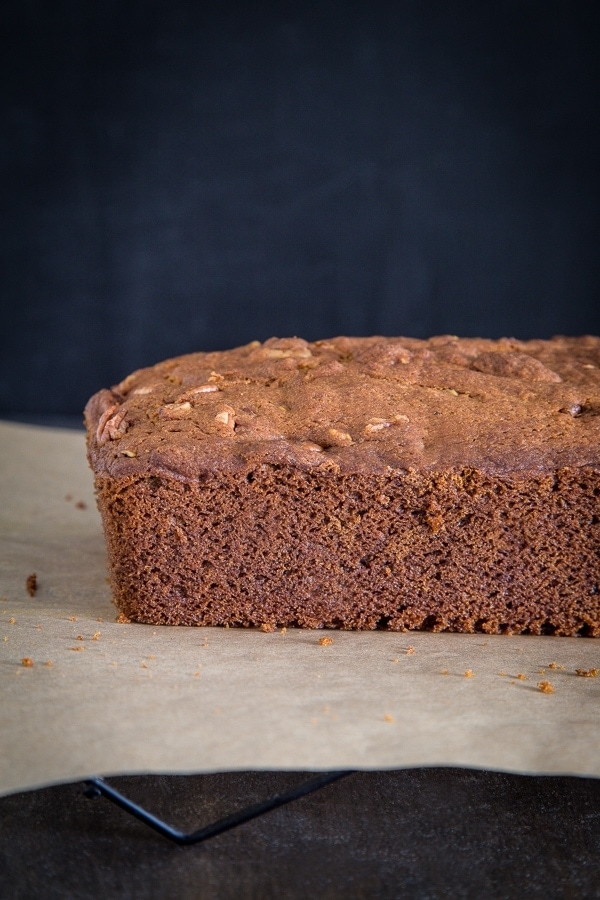 Pumpkin Spice Pecan Bread is my jam, you guys!
This recipe is a simple quick bread that I made with whole grain flour to boost the nutritional value. Coconut oil is used instead of vegetable or canola because that's pretty much how I roll. Coconut oil is my jam too. Don't worry, it doesn't taste like coconut. The pumpkin flavor is the star here.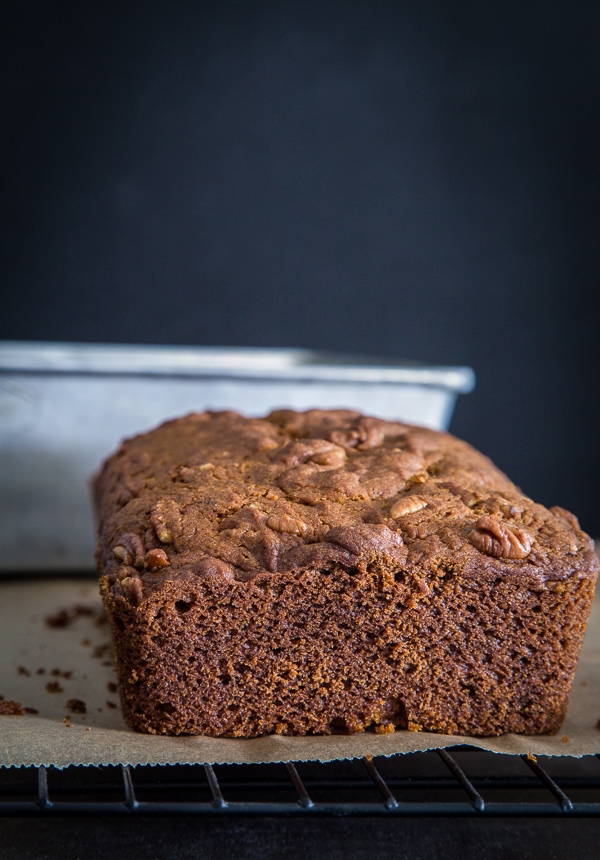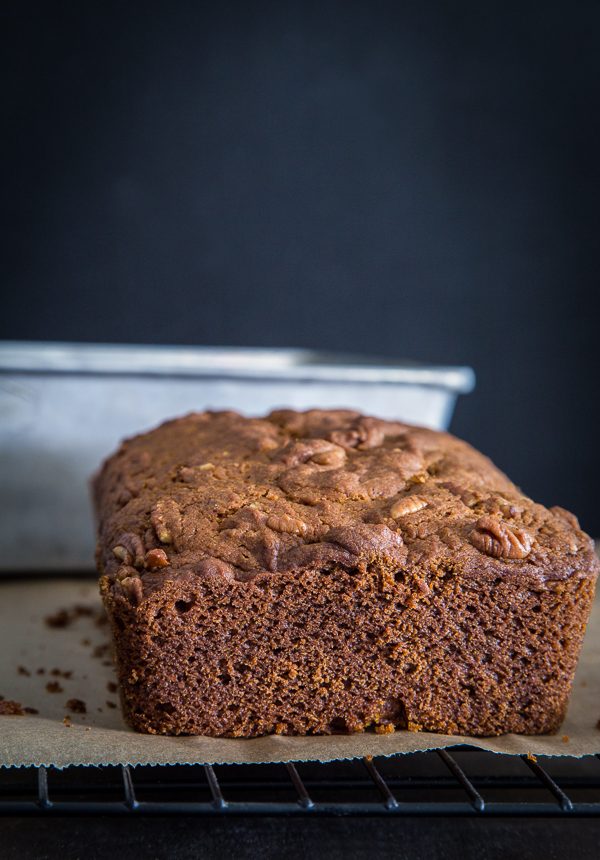 I get that a lot of people are sick of pumpkin, but I'm just never going to be. If you are really tired of pumpkin then feel free to replace it with some other squash puree or even a sweet potato. I've made plenty of butternut squash or acorn squash baked goods, like these acorn squash donuts and these acorn squash cupcakes.
Recently I posted about this sweet potato custard so don't feel confined to pumpkin, it's okay to branch out.
If you're allergic to pecans or prefer walnuts, feel free to substitute. They are not mandatory so you can remove them from the recipe altogether.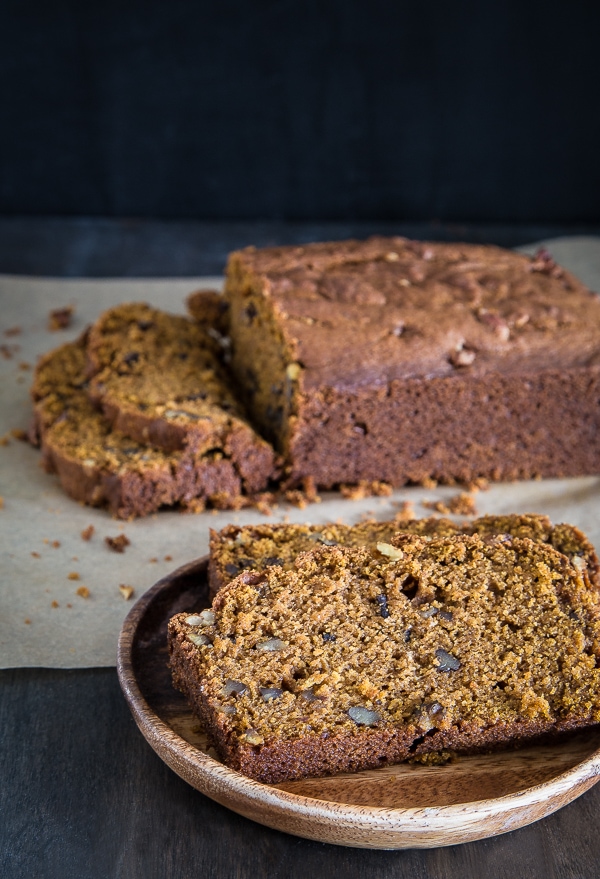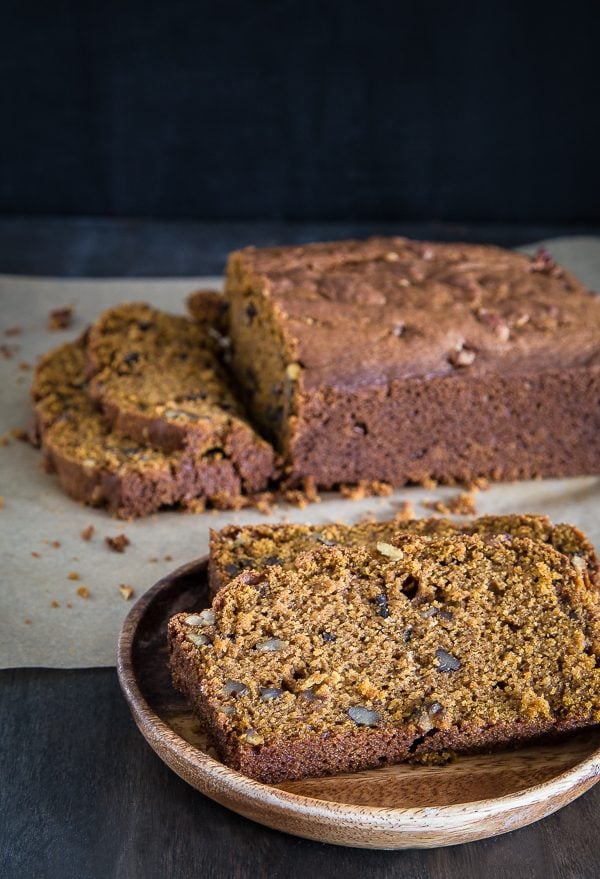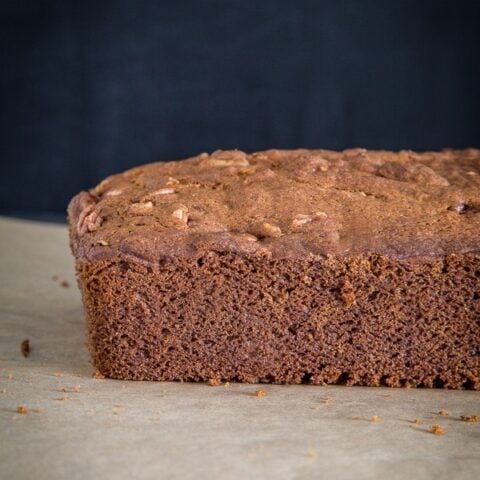 Yield: 1 loaf
Pumpkin Spice Pecan Bread
This recipe is made with whole wheat flour and coconut oil. It is dairy-free and whole grain! If you want to make your own pumpkin puree you can do that instead of buying it.
Prep Time 15 minutes
Cook Time 1 hour
Total Time 1 hour 15 minutes
Ingredients
3/4 cups coconut or unrefined sugar
1 cup coconut oil, melted
2 large eggs
1 cup pumpkin
1 tablespoon almond milk
1 tablespoon pumpkin pie spice
1 3/4 cup white whole wheat flour
1 teaspoon baking powder
1 teaspoon baking soda
1 teaspoon salt
1 1/2 cups pecans
Instructions
Preheat the oven to 325 degrees F. Grease a 9 x 5 x 3 inch loaf pan with coconut oil using wax or parchment paper.
Cream the sugar and coconut oil together in a large mixing bowl until light and fluffy. Add the eggs one at a time, beating well after each addition.
Mix in the pumpkin puree, almond milk and pumpkin pie spice. In another bowl mix together the spelt flour, baking powder, baking soda and salt.
Add the pumpkin mixture to the wet mixture and stir until combined. Add dry ingredients and mix until combined. Add pecans to batter & mix
Pour batter into prepared pan and bake 45 minutes to an hour or until a toothpick inserted in the center comes out clean. Set aside to cool on a rack for 15 minutes. Remove bread from pan by inverting onto rack and cool completely before slicing.
Recommended Products
This post contains affiliate links. I will make a small commission if you make a purchase through one of these links, at no extra cost to you.
Nutrition Information:
Yield:
10
Serving Size:
1
Amount Per Serving:
Calories: 426
Total Fat: 36g
Saturated Fat: 21g
Trans Fat: 0g
Unsaturated Fat: 12g
Cholesterol: 37mg
Sodium: 419mg
Carbohydrates: 23g
Fiber: 5g
Sugar: 4g
Protein: 6g