Acorn Squash Cupcakes with Mascarpone Cheese Frosting
Acorn squash is the unsung hero of fall. It's such a shame that pumpkin, while still wonderful, pushes this darling out of the way.
These acorn squash cupcakes might just help you forget their pumpkin spice counterpart.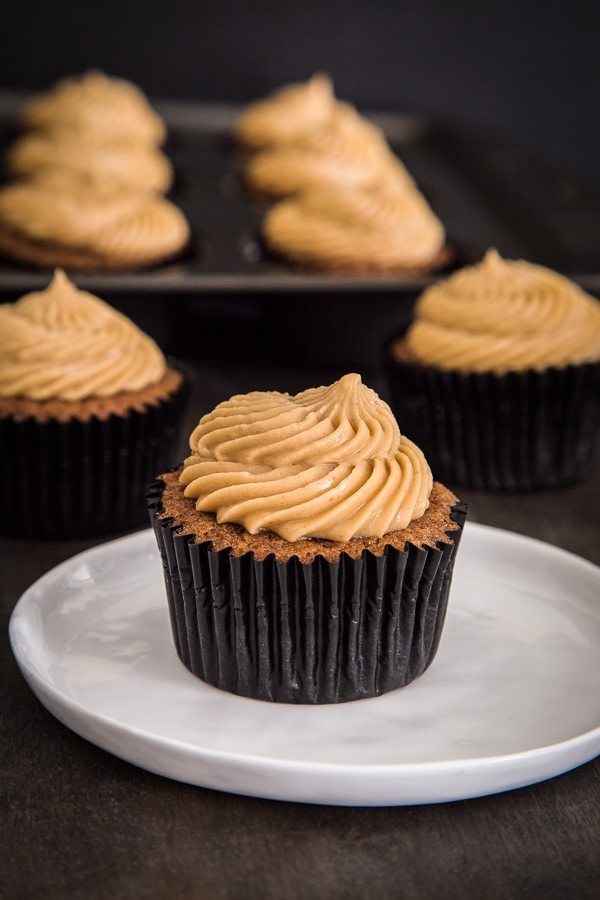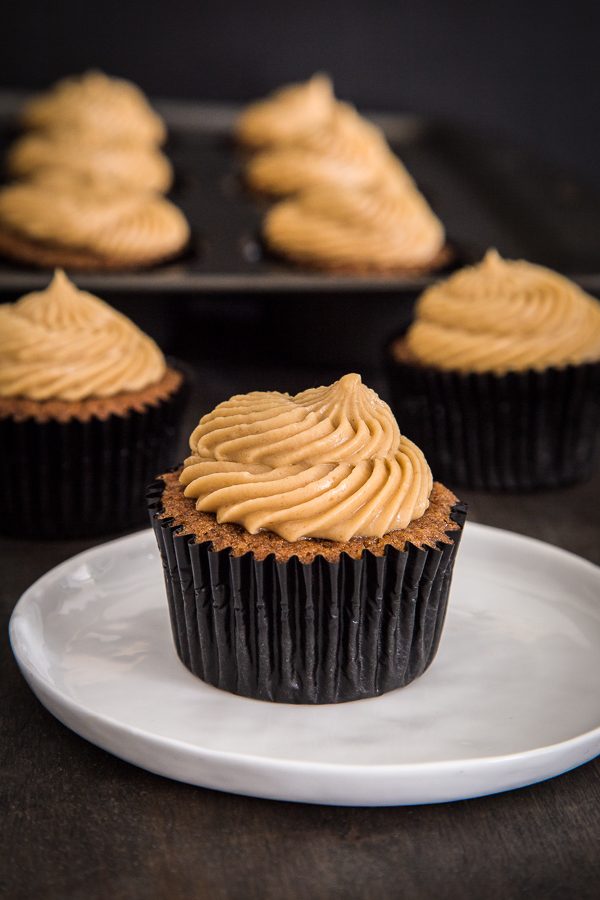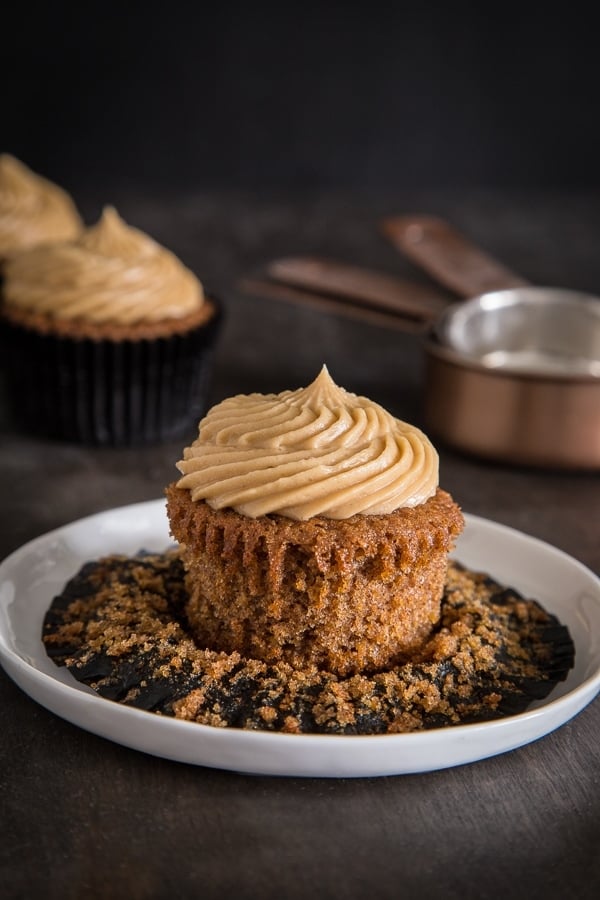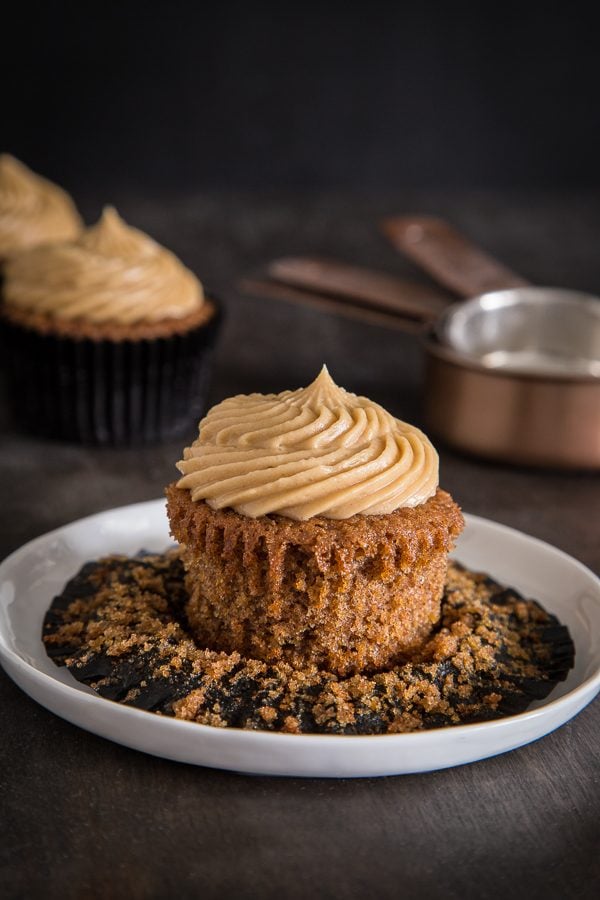 This recipe takes a tiny bit more prep work than your average cupcakes. The end result is really worth it.
These acorn squash cupcakes are super tender. I would go as far as to say they are a refreshing change from pumpkin spice.
You have to cut the acorn squash in half and bake it in a baking dish filled with water.
Once it is soft, just pull the acorn squash "meat" away from the outer shell and blend it to make a puree.
I wrote a step-by-step tutorial on how to make fresh pumpkin puree from scratch. You can use the same method with the acorn squash.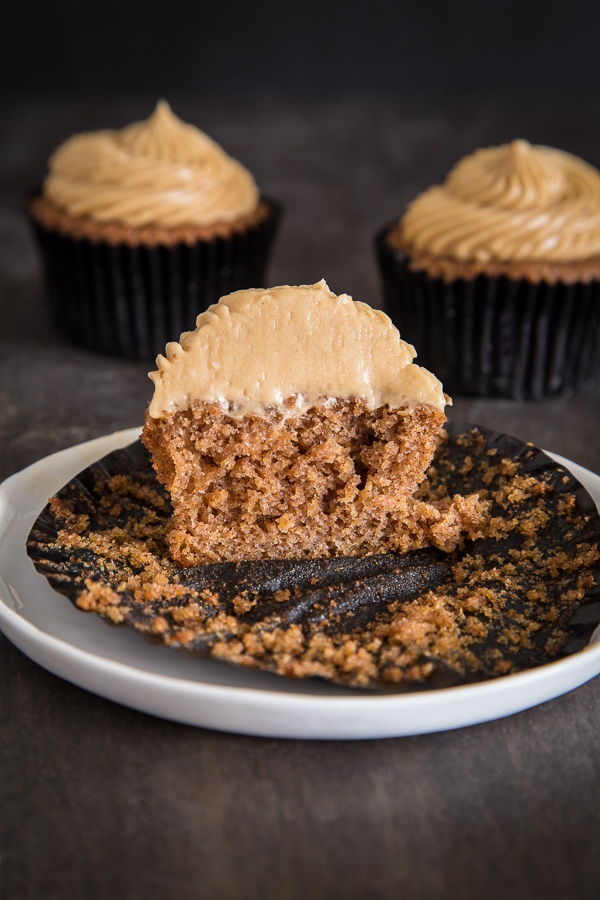 I hope you enjoy these cupcakes! I used mascarpone cheese in place of the "normal" cream cheese frosting.
There is something special about the use of mascarpone cheese. I can't quite put my finger on it but it's delicious!
The cake is made with healthy coconut oil instead of vegetable or canola oil. I used virgin coconut oil in this cake and there isn't a strong coconut flavor,
I suspect that is due to the other strong flavors such as cinnamon and acorn squash.
Instead of powdered sugar, I blended coconut sugar to make powdered coconut sugar, which explains the color of this frosting. Look out for a powdered coconut sugar tutorial very soon!
tl;dr: If you're trying to make your cupcakes a bit healthier, make this acorn squash cupcake recipe. It uses alternative ingredients such as coconut oil and coconut sugar instead of other processed oils and white sugar.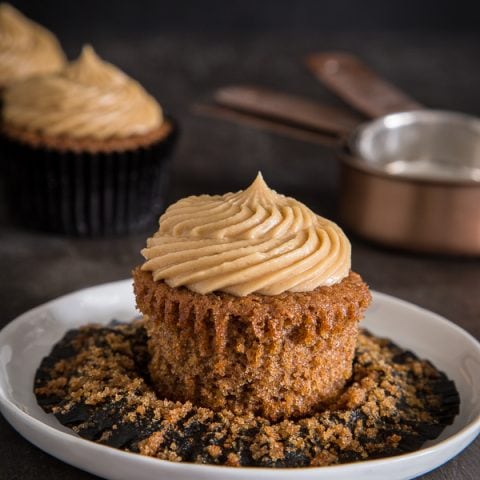 Yield: 18 cupcakes
Acorn Squash Cupcakes
This cake is dairy-free but the frosting does have butter and mascarpone cheese. If you need a dairy-free version, cut out the mascarpone cheese use your favorite dairy-free butter substitute.
When substituting, make sure to double the butter substitute to 1 cup!
Prep Time 50 minutes
Cook Time 50 minutes
Total Time 1 hour 40 minutes
Ingredients
Cake
1 3/4 cup spelt flour
1 teaspoon baking soda
1 teaspoon baking powder
1 teaspoon salt
1 tablespoon cinnamon
1 1/2 cup coconut sugar
1 cup coconut oil
4 large eggs
1 1/2 cup acorn squash puree
Frosting
1 cup mascarpone cheese
1/2 stick butter
1 cup coconut sugar
2 tablespoons almond milk
Instructions
CAKE
Preheat the oven to 350 degrees F. Line two cupcake pans with cupcake liners.
In a medium bowl, combine the flour, baking soda, baking powder, salt, and cinnamon. Set aside.
In the bowl of a stand mixer, combine the coconut sugar and coconut oil on low speed.
Add one egg at a time while the mixer is on.
Add the flour mixture to the wet ingredients and add the acorn squash puree.
Mix on low-medium speed. Using a large cookie scoop, scoop mixture into cupcake liners.
Bake for 20 minutes or until a toothpick or a tester comes out of the center of the cupcakes clean.
FROSTING
While cupcakes are baking, add the coconut sugar to the bowl of a food processor and blend for 2-5 minutes or until the coconut sugar is finely ground and resembles powdered sugar. Let settle in the bowl before removing the lid.
Wash the bowl of the stand mixer and combine the mascarpone cheese, butter, powdered coconut sugar, and almond milk.
Mix together on low speed.
Fit a piping tip into a piping bag. Spoon the frosting into the bag.
Once cupcakes are cooled, pipe frosting onto cupcakes.
Recommended Products
This post contains affiliate links. I will make a small commission if you make a purchase through one of these links, at no extra cost to you.
Nutrition Information:
Yield:
18
Serving Size:
1
Amount Per Serving:
Calories: 385
Total Fat: 27g
Saturated Fat: 19g
Trans Fat: 0g
Unsaturated Fat: 6g
Cholesterol: 82mg
Sodium: 360mg
Carbohydrates: 34g
Fiber: 1g
Sugar: 27g
Protein: 3g