Cinnamon Brown Rice Pudding with Almond Milk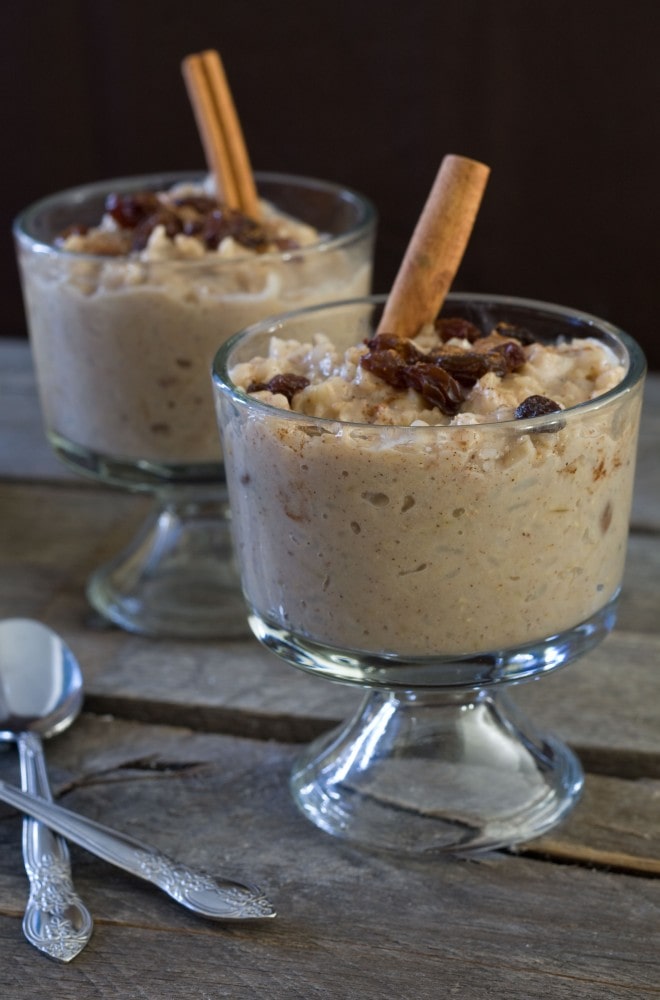 Rice pudding is so easy to make I'm not really sure why I waited so long! My mom loves it and Joe's mom loves it so why haven't I made it for these wonderful ladies yet? I decided that I needed to make some but I only had almond milk and brown rice on hand. I figured that would be fine and went with it.
Brown rice is healthier anyway!
I really wanted to add dried figs and maple in the mix but I decided this time I would stick to cinnamon since I was making it for other people. Next time I'll experiment with some flavor combinations. Doesn't fig and maple sound pretty great?
During the slow boil, I was afraid that the milk was going to curdle so I had the heat on low. Too low because it took absolutely forever for the milk to cook down and thicken the rice. When I say forever, I really mean FOR-EV-ER! I hope some of you get the reference here. Extra points if you knew what I was referencing without clicking the YouTube link!
I brought these bowls filled with pudding over to Joe's for dessert and they were promptly devoured after dinner. I left some for my mom, who didn't even bother to eat it.
If you don't like raisins, feel free to omit them or eat around them. I won't be offended.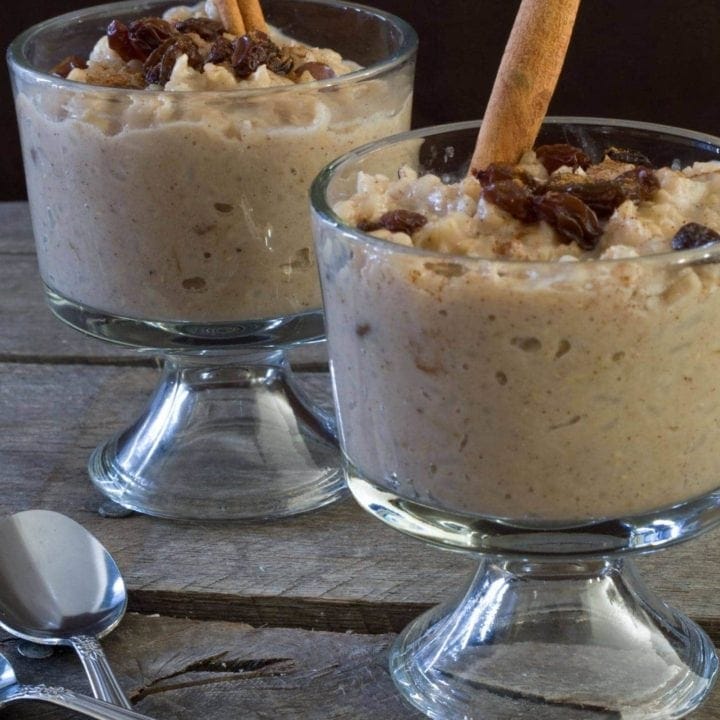 Yield: 4-6 servings
Cinnamon Brown Rice Pudding with Almond Milk
You can easily replace the rice with white and the milk with whole in this recipe. Omit the raisins if you aren't into sun-dried grapes!
Prep Time 30 minutes
Cook Time 2 hours
Total Time 2 hours 30 minutes
Ingredients
4 cups water
1 cup brown rice
4 cups almond milk
2 Tbsp sugar
2 Tbsp honey
1 Tbsp cinnamon
1 tsp nutmeg
2 Tbsp butter
1/2 cup raisins
Instructions
Boil 4 cups of water and stir in brown rice.
Lower to medium heat and simmer rice for 30 minutes, uncovered.
Stir occasionally. Drain water and transfer rice back to its original pot.
Put the lid on the pot and let steam for 10 minutes, away from the flame.
After 10 minutes, transfer rice to a bowl and set aside.
Bring almond milk, sugar, honey and spices to a low boil.
Stir often so the milk doesn't burn.
Add the rice, butter and raisins, stir often.
Simmer until milk cooks down, about 30-45 minutes.
Serve cold or at room temperature with a pinch of cinnamon on top.
Add raisins to your liking.
Recommended Products
This post contains affiliate links. I will make a small commission if you make a purchase through one of these links, at no extra cost to you.
Nutrition Information:
Yield:
6
Serving Size:
1
Amount Per Serving:
Calories: 189
Total Fat: 6g
Saturated Fat: 3g
Trans Fat: 0g
Unsaturated Fat: 3g
Cholesterol: 10mg
Sodium: 45mg
Carbohydrates: 34g
Fiber: 2g
Sugar: 22g
Protein: 2g
Nutrition information isn't always accurate. You may want to spot check this information.