Salsa, Hash Brown + Sausage Egg Skillet
Disclosure: As a Sabra Tastemaker, I have been monetarily compensated for this post, recipe development, and photography. However, all opinions are 100% my own. This post contains affiliate links. I will make a small commission if you make a purchase through one of these links, at no extra cost to you.
This Salsa, Hash Brown + Sausage Egg Skillet could just be the perfect breakfast for a large crew on a lazy weekend morning!
Below these soft baked eggs, you will find: Golden hash browns, chopped onions, red peppers, mushrooms, black beans, sausage, and Sabra Roasted Garlic Salsa to add a bit of zing and color.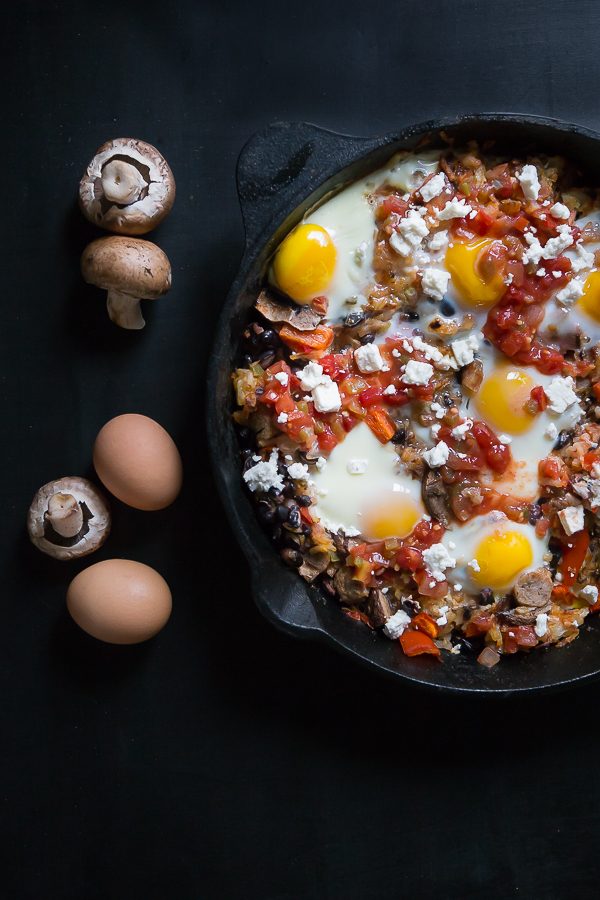 Breakfast is my favorite meal. I especially love breakfast for dinner but breakfast on Sunday morning is so ritualistic to me.
I slowly sip on a cup of coffee and leisurely begin to cook; mostly from my imagination, sometimes from memory.
This has all of my breakfast favorites in it: Eggs, mushrooms, and sausage.
Now breakfast doesn't quite seem complete without salsa. I know that when you see the word salsa you mostly think of a classic snack known as chips and salsa but there are so many other uses for the tomato-based snack.
Breakfast was the obvious choice when I thought about how I would branch out with Sabra's salsa.
You can mix this up as much as you want but I beg you, keep three of these ingredients if you do make any changes:
Hash browns – These are the base and in my opinion, non-negotiable. Although, a healthier version would be to replace them with something greener, maybe spinach or kale. Just cook the leafy green enough to wilt it and then mix it with the other ingredients before cracking the eggs on top. I would also switch to olive oil in this case and use only 1 – 2 Tbsp, not 4!
Eggs – What's breakfast without the eggs cracked on top of a pile of potatoes, followed by some other vegetables of course.
Salsa – It really makes this dish! You can feel free to mix up the flavor of salsa as you see fit.
If you are a vegetarian, removing the sausage is a snap.
You don't need to replace it with anything as the mushrooms do a really good job at acting like they are meat.
If you really wanted to, you could add another vegetable. Maybe corn if you are using a southwestern salsa!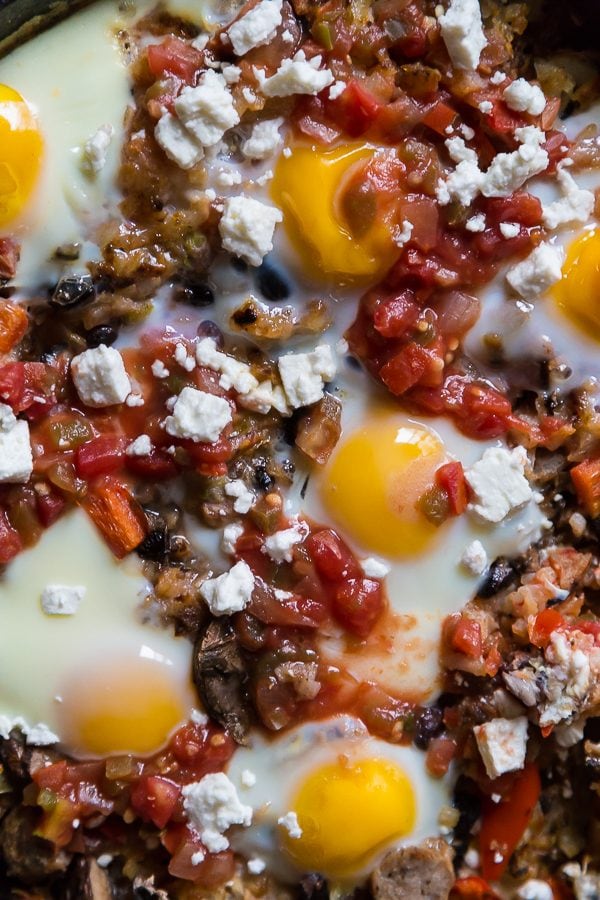 Let's talk about the eggs now. To get them to cook evenly was a challenge, my one tip here would be to make sure that your mixture is completely flat (or as flat as you can make it) in the skillet before cracking the eggs on top.
Also, make sure that the sides have a sufficient amount of the mixture so the eggs don't sink into the crevice. If they do sink to the sides, don't worry.
It will still taste really great and be edible!
You might also want to keep an eye on it after you crack the eggs and begin to bake them.
When it's "done' completely depends on your preferences. I suggest cooking times in the recipe but it truly depends on if you like runny eggs or if you like a firmer egg. Sorry, but you have to pay attention to this step!
It's tempting to walk away for 10-15 minutes but I urge you to turn your oven light on and check it every 3-5 minutes and then decide when you're happy with your yolks.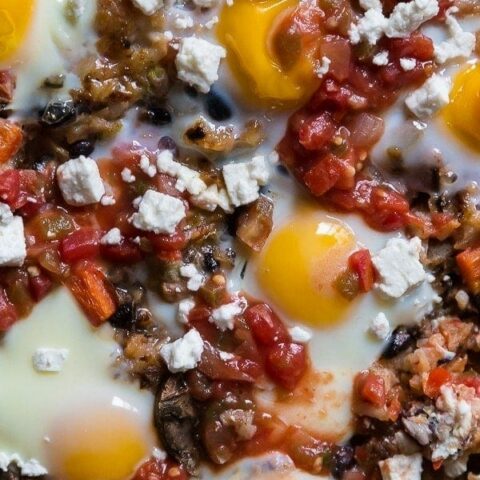 Yield: 5-7
Salsa, Hash Brown + Sausage Egg Skillet
For this recipe I used Sabra Garlic Salsa but you can use any variety you see fit. I imagine it would be great with the Southwestern Salsa with black beans and corn! I've found that the time in which you bake your eggs will vary from person to person. If you like your eggs runny, bake for a smaller amount of time. If you hate runny eggs, bake for longer. Just keep an eye on the skillet!
Prep Time 40 minutes
Cook Time 20 minutes
Total Time 1 hour
Ingredients
2-3 medium potatoes
1/2 medium onion
1 red pepper
4 medium to large baby portobello mushrooms
6 breakfast sausage links
4 Tbsp vegetable oil, divided
1 cup black beans
1 container Sabra Roasted Garlic Salsa, divided
7 eggs
Salt + pepper
Feta cheese
Instructions
Preheat oven to 375 degrees F °
Peel and cook potatoes in boiling water.
Once cooked and cooled, shred and pat with paper towel to rid potato of excess water.
Chop the onion and red pepper and set aside.
Slice the mushrooms and sausage links and set aside.
In a 12 inch cast iron skillet, coat with 2 tablespoons of the vegetable oil and spread the shredded potatoes and chopped onion evenly on the skillet.
Turn your burner onto medium heat and pat down with a metal spatula.
Cook for 5-6 minutes on one side or until potatoes turn brown and crispy.
Drizzle the remaining remaining vegetable oil on top and use the spatula to flip the potatoes, doing so in portions until all sections are flipped.
Continue to cook for another 5-6 minutes or until both sides of the potatoes are brown and crispy.
You may need to re-flip to evenly distribute uncooked potatoes.
Add the red pepper, sliced mushrooms, sausage, black beans and half of the sabra container to the mixture.
Combine thoroughly and flatten the mixture in the skillet.
Crack all seven eggs on top of the mixture in a circle with one egg in the middle.
Season well with salt and pepper.
Place the cast iron skillet into the preheated oven and bake for 12-20 minutes.
Or until you are happy with your egg consistency.
Add the remaining salsa to the top in between the cooked eggs.
Sprinkle the cheese on top (if using) and serve!
Recommended Products
This post contains affiliate links. I will make a small commission if you make a purchase through one of these links, at no extra cost to you.
Nutrition Information:
Yield:
5
Serving Size:
1
Amount Per Serving:
Calories: 462
Total Fat: 27g
Saturated Fat: 6g
Trans Fat: 0g
Unsaturated Fat: 19g
Cholesterol: 289mg
Sodium: 556mg
Carbohydrates: 35g
Fiber: 6g
Sugar: 4g
Protein: 21g
Nutrition information isn't always accurate. You may want to spot check this information.