How to Make a Gluten Free All Purpose Flour Mix
While a gluten-free all-purpose flour is not a new concept, I've found that this mix works really great as a substitute for all purpose flour in all of the recipes I have tried it in so far.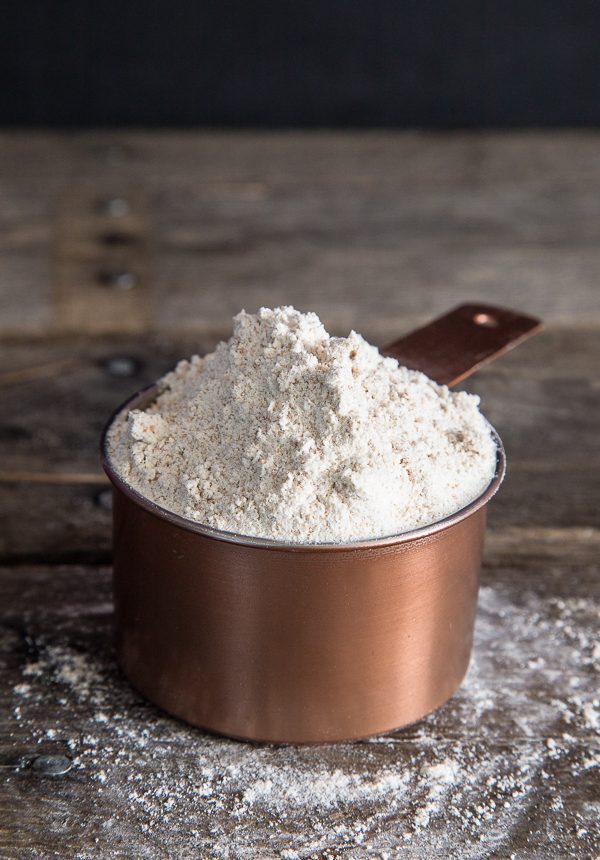 A long time ago while I was baking for the farmers' market I came across a customer who really wanted some cupcakes and who had celiac disease. At the time, I had your normal run of the mill cupcake and a vegan option. I did some research in the form of asking my friend, Pam all about gluten-free baking. If anyone in my life would know, it would be Pam. She gave me a jar of her own gluten free all purpose flour mix. I used it to make this customer cupcakes with all new bowls and spoons.
The mix I'm sharing with you today has the same exact combo of flour in it. Pam had already added xanthan gum to the jar but I left it out and add it to each recipe on an as needed basis.
Let's just go back for a second. Why did I take the time to do this if I am not celiac? I do have some sort of food allergy and I am currently in the process of trying to figure out just what foods I am allergic to. There are some other things going on too that may or may not be food related. So I'm just trying to navigate those murky waters as easily as possible.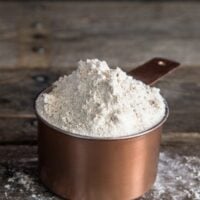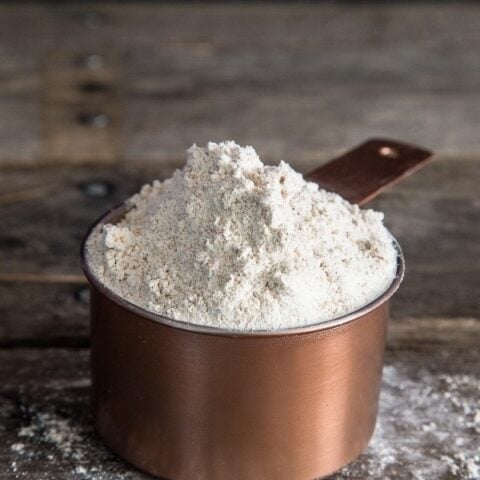 Yield: 7 cups
Gluten Free All Purpose Flour Mix
When using this mix in a recipe you can replace 1:1 cup. In recipes using this gluten free flour blend I have been adding 1/2 tsp xanthan gum to the dry mix in the final recipe. Feel free to double the recipe to store a larger amount of flour for future baking! Store in an airtight container at room temperature.

Prep Time 30 minutes

Total Time 30 minutes
Ingredients
1 1/4 cups brown rice flour
1 1/4 cups quinoa flour
3 1/4 cups tapioca starch
1 1/4 cups potato starch
Instructions
Using a flour scoop, carefully scoop the flour into the appropriate size cup and level off the top.
After measured, place into an airtight container with a lid.
As you are adding each flour, thoroughly mix together with a whisk.
Recommended Products
As an Amazon Associate and member of other affiliate programs, I earn from qualifying purchases.
Nutrition Information:
Yield:
7
Serving Size:
1 Amount Per Serving: Calories: 498 Total Fat: 2g Saturated Fat: 0g Trans Fat: 0g Unsaturated Fat: 2g Cholesterol: 0mg Sodium: 23mg Carbohydrates: 112g Fiber: 5g Sugar: 3g Protein: 7g

Nutrition information isn't always accurate. You may want to spot check this information.

I've given up gluten since September 1st as per my doctor. I'm really bummed right now. Beer festivals are prevalent in New York State this time of year and I love me some pumpkin beer.
It is just now occurring to me that I should have probably eliminated more than just gluten. But my doctor only specified gluten and I think I was so worried that I didn't think about anything for myself.
For now, you have this mix to adjust to your liking. Soon I will be posting a Gluten Free Double Chocolate Brownie recipe and Gluten Free Pancakes.
It isn't quite all whole grain which sort of disappoints me but I'll update when I get a handle on whole grain gluten-free baking!
A lot of people do not like quinoa flour, so use with caution. It doesn't seem to bother me in this mix. Maybe if it was alone I would understand. For now, I'll keep using it.
Feel free to adjust which flours or starches you use. You can substitute any of the flours or starches below, just make sure to replace them in the correct amount.
Gluten Free Flours:
Amaranth Flour
Buckwheat Flour
Sweet Brown Rice Flour
Coconut Flour
Quinoa Flour
Almond Flour
Hazelnut Flour
Garbanzo Flour
Banana Flour
Mochiko
Corn Flour
Millet
Oat (Certified Gluten-Free)
Gluten Free Starches:
Tapioca Starch
Arrowroot Starch
Potato Starch
Sweet White Rice Flour
Corn Starch