Open-Face Apple Crisp (Gluten Free, Vegan, Diary-Free)
These Open-Face Apple Crisp Halves are a great way to use the entire apple (sans core!). These are a healthy alternative to other desserts.
The apple halves are filled with healthy fats (coconut oil, walnuts), are gluten-free assuming you buy gluten-free oats and are dairy-free and vegan!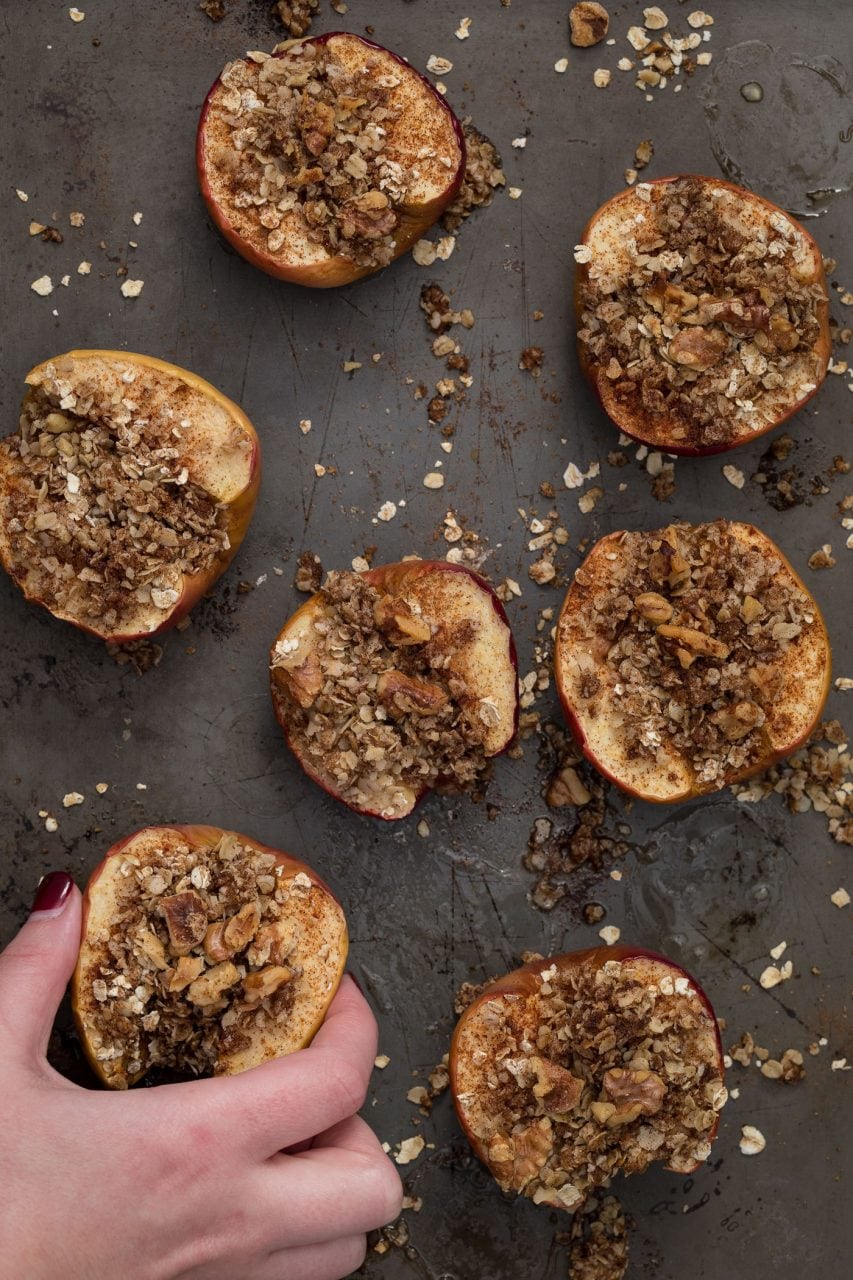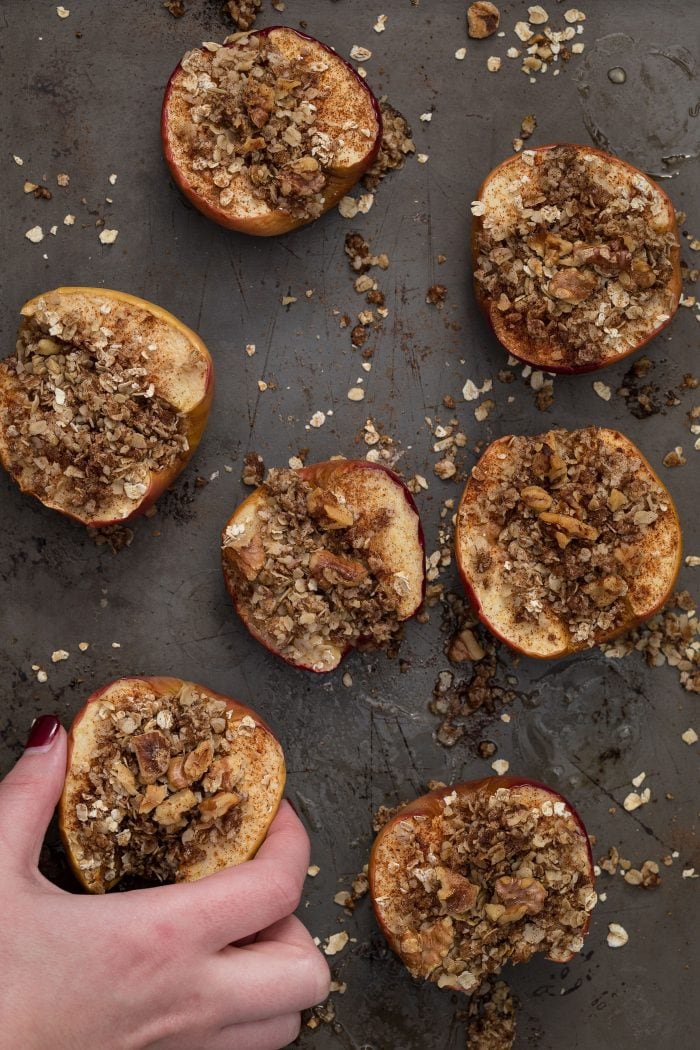 Oh, the magic of the internet. I saw something somewhere (in 2010!) that lead me to the blog: My Baking Addiction and the recipe Inside Out Apple Crisp.
At the time, I've never heard of such a thing. I was planning on making apple crisp with some of the apples I just picked up so I decided I'd give this a shot. Please go to My Baking Addiction to see the original recipe.
I changed this recipe to be Open-Face Apple Crisp purely for food photography reasons.
I thought seeing some of the insides of the apple might look nice.
I used Gala Apples, I believe. I'm not 100% positive since I went apple picking and picked a whole bunch of different varieties and they were all mixed up in my bag.
Use something good for baking: Golden Delicious, Red Court, Granny Smith, and Macoons.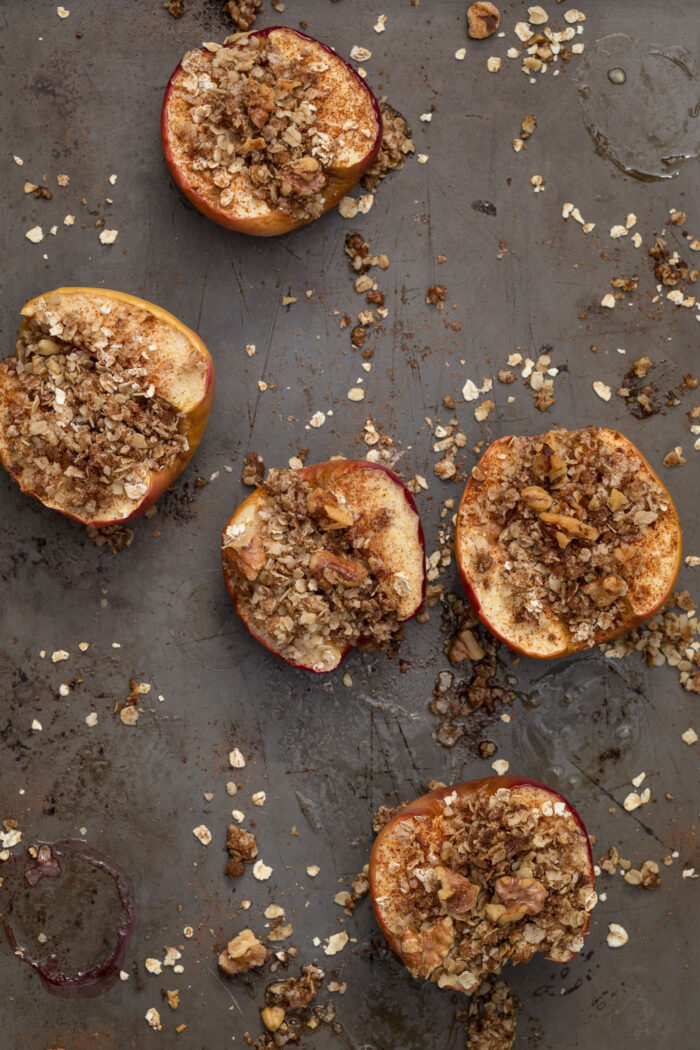 First, you want to core your apples and then cut them in half.
Hollow them out just a bit more if you see some of the core still there or some of the seeds leftover.
I sprinkled more cinnamon on top of the apple halves.
Then I baked them for about 30 minutes. I tried the first one after taking photos and it was absolutely delicious.
I promptly went back for seconds and didn't feel one bit of guilt because hey, healthy fats!
This is such a quick snack to make and it is low in calories, could be gluten-free (depending on the oats you purchased!) and best of all, it's simple.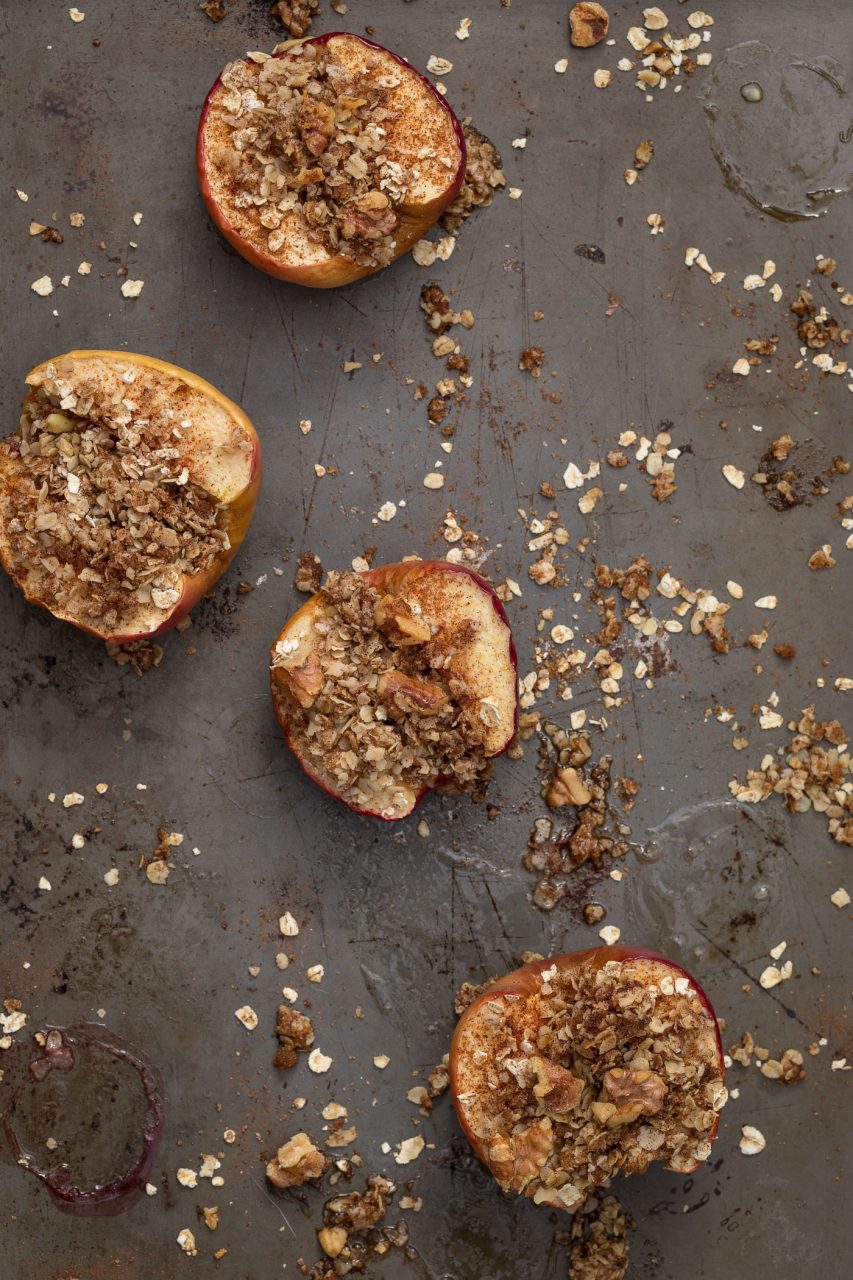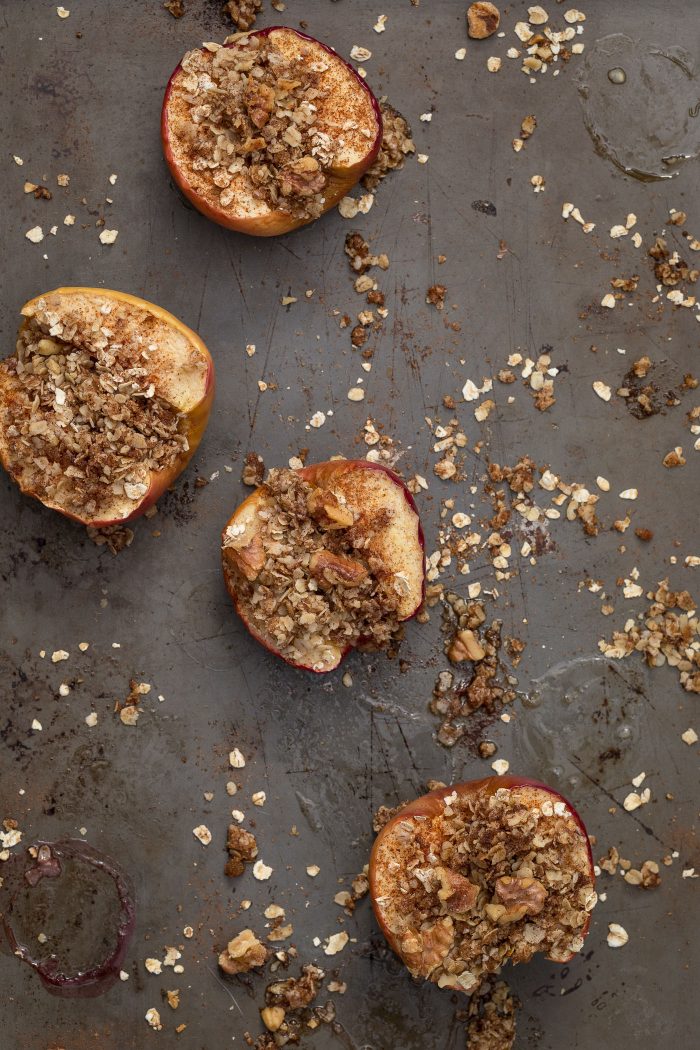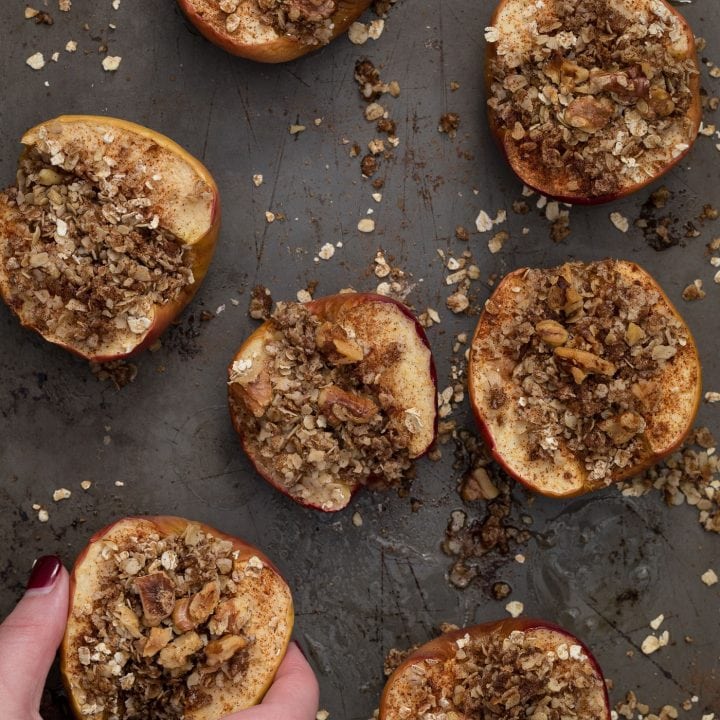 Yield: 10
Open Face Apple Crisp
This is a cute and easy way to enjoy apple crisp. Just core and cut the apples into halves. Sprinkle the oat topping over the apple halves and bake in the oven!
Prep Time 20 minutes
Cook Time 1 hour
Total Time 1 hour 20 minutes
Ingredients
5 apples, cored and cut in half
1/2 cup rolled oats
2 tablespoons coconut oil
3 tablespoons brown sugar
1/4 cup walnuts, chopped
1 teaspoon of cinnamon
Instructions
Preheat oven to 350 ° F.
Core and cut in half.
Mix together the oats, cinnamon, brown sugar and walnuts.
Mix in the coconut oil into the oat mixture until combined.
Sprinkle the oat mixture filling on top of the apples.
Bake for 30 minute and top with a side of vanilla bean ice cream or whipped cream.
Recommended Products
This post contains affiliate links. I will make a small commission if you make a purchase through one of these links, at no extra cost to you.
Nutrition Information:
Yield:
10
Serving Size:
1
Amount Per Serving:
Calories: 121
Total Fat: 5g
Saturated Fat: 3g
Trans Fat: 0g
Unsaturated Fat: 2g
Cholesterol: 0mg
Sodium: 2mg
Carbohydrates: 19g
Fiber: 3g
Sugar: 13g
Protein: 1g