Butterscotch Cookies
Butterscotch Cookies are a family favorite around here. I made these to sell at the farmers' market in 2010 and they are also a big hit. People would come just to buy the famous butterscotch cookies.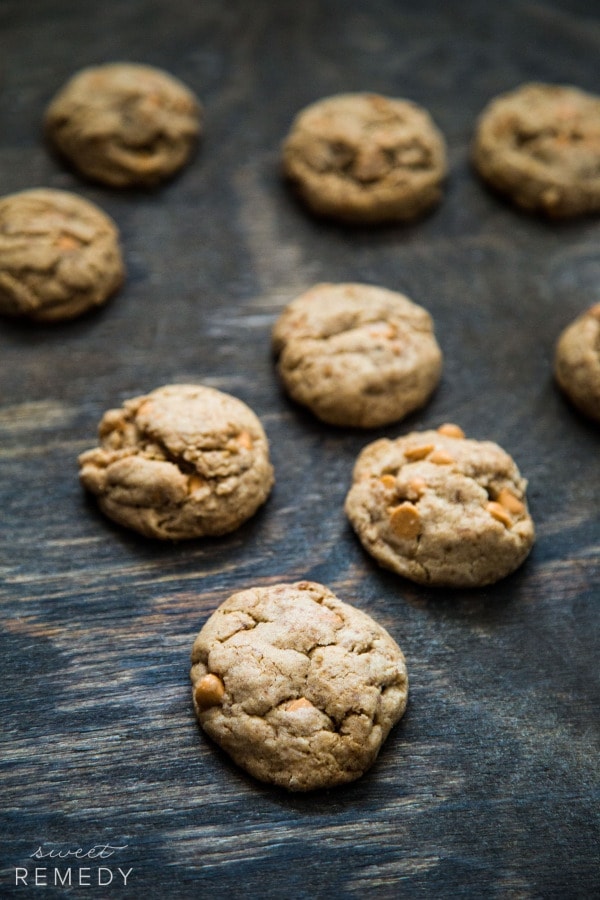 These cookies couldn't be any simpler. I mean, it is basically a chocolate chip cookie with butterscotch chips substituted for chocolate.
I made these cookies for Cookies for Kids' Cancer, a non-profit committed to raising funds for research to develop new, improved treatments for pediatric cancer. This organization was started by two OXO employees and you can read more about their story and this inspiring organization.
For every stickered item sold, OXO will donate 25 cents in support of pediatric cancer research as part of its $100,000* pledge to Cookies for Kids' Cancer.
Look for specially marked OXO products at participating retailers in September.
In 2014, OXO will donate up to $100,000 to Cookies for Kids' Cancer through specially marked baking tools, bake sale matches and other fundraising efforts. Cookies for Kid's Cancer is a recognized 501c(3) public charity duly incorporated under the laws of the state of New Jersey.
Your donations are tax-deductible to the fullest extent allowable by law. 100% of proceeds raised by Cookies for Kids' Cancer fund pediatric cancer research.
In addition to all of this generosity, OXO will be donating $100 to Cookies for Kids' Cancer for each blog post dedicated to this campaign in September.
I don't have much to give, but donating my time and this Butterscotch Cookie Recipe and Post is my way of contributing to such a worthy cause.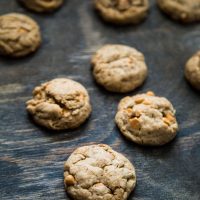 Yield: 2 dozen
Butterscotch Cookies
When I was a farmers' market vendor, these cookies were my best seller! You can substitute the butterscotch chips for chocolate, cinnamon, mint or peanut butter chips. You can also use nuts or dried fruit. Just make sure whatever combo you use, it adds up to 2 cups.
Prep Time 20 minutes
Cook Time 10 minutes
Total Time 30 minutes
Ingredients
1 cup (2 sticks) unsalted butter
1 1/2 cups brown sugar, packed
1 tablespoon vanilla extract
1 large egg
1/4 teaspoon salt
1/2 teaspoon baking soda
2 1/2 cups all-purpose flour
2 cups butterscotch chips
Instructions
Preheat oven to 375 ° F.
In a large bowl, cream the butter and sugar with a hand mixer.
Alternatively you can place in a stand mixer and beat with a beater blade.
Add vanilla, egg, salt and baking soda and cream together until completely incorporated.
Mix in flour until the dough is stiff. Mix in the butterscotch chips.
Using a small cookie scoop, drop dough onto a cookie sheet and press down slightly.
Bake for 10 minutes and remove from oven.
Let cool for a minute before transferring onto a cooling rack with a cookie spatula or other spatula.
Recommended Products
As an Amazon Associate and member of other affiliate programs, I earn from qualifying purchases.
Nutrition Information:
Yield:
24
Serving Size:
2
Amount Per Serving:
Calories: 239
Total Fat: 12g
Saturated Fat: 8g
Trans Fat: 0g
Unsaturated Fat: 3g
Cholesterol: 28mg
Sodium: 68mg
Carbohydrates: 31g
Fiber: 0g
Sugar: 21g
Protein: 2g
Nutrition information isn't always accurate. You may want to spot check this information.