Homemade Pistachio Walnut Butter
Homemade Pistachio Walnut Butter might just be the most expensive butter I've ever had the pleasure of eating. Some things are well worth the price!
Pistachios are a special kind of nut. They are hard to crack open and elusive when you get that one nut that just won't open.
Pistachios used to come in two colors, red and green. I found myself wondering what happened to the red pistachios that I loved as a kid. I stumbled upon this post via The Kitchn about how red pistachios were actually died red to cover up stained shells as they were imported from the Middle East. According to The Kitchn, now all of the pistachios found in the United States are grown in California and the harvesting methods no longer stain the shells so there is no need to dye the nuts.
That seems crazy to me! Who cares about stains on shells? They are still delicious and you throw away or compost the shells anyway so who cares?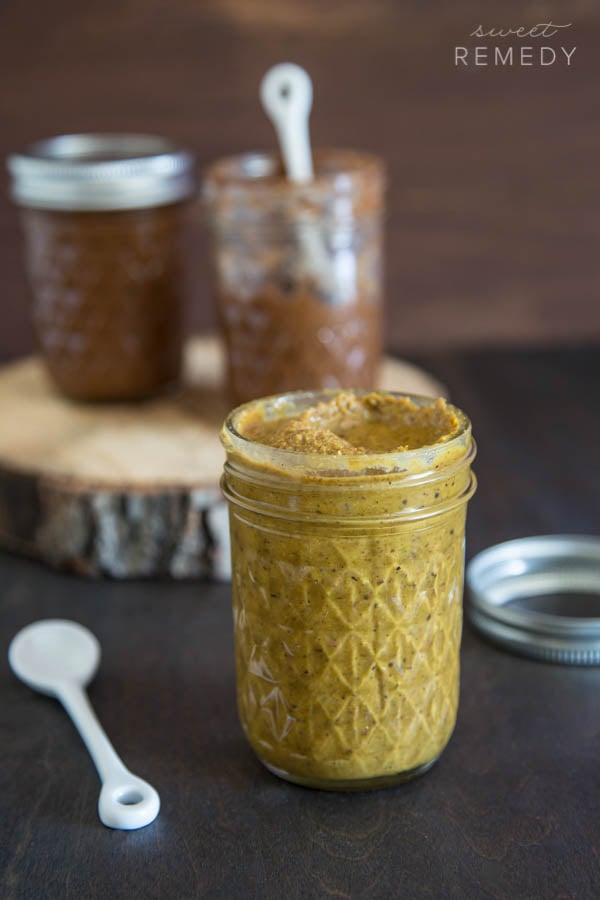 So there you have it, your fun fact of the day. Red pistachios were never really red at all. I'm kind of sad about this fact. Anyone else?
When I found already shelled pistachios in the store, I knew I had to buy them and make something really special. I decided on a homemade pistachio butter and went to work. I had only bought a small bag of pistachios so once I got the food processor up and running I quickly realized I needed more nuts. In a panic, I added walnuts. The end result was actually pretty great.
How many times have you been stuck in a pinch while making a recipe? For me, it is more than I'd like to admit.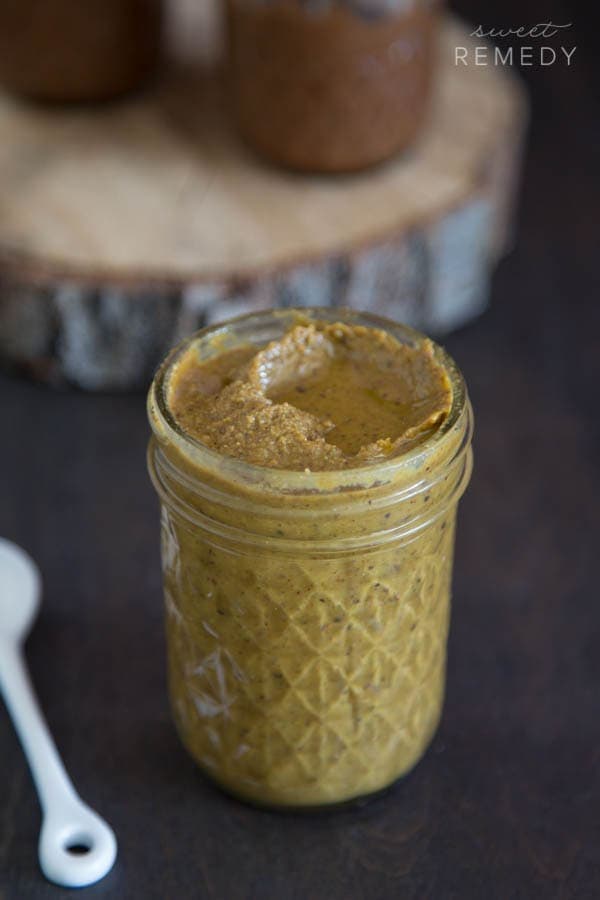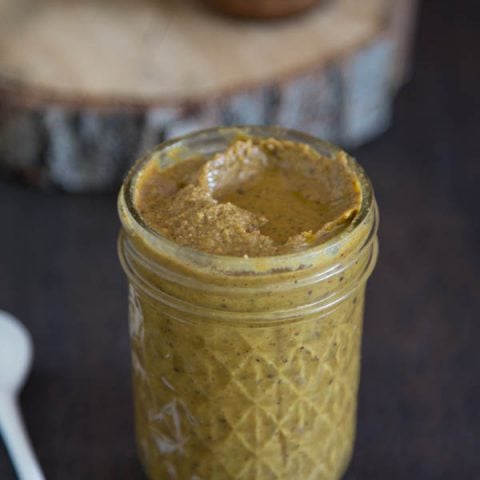 Yield: 1 8 oz jar
Homemade Pistachio Walnut Butter
It's really satisfying to make your own nut butter and pistachio walnut butter is the perfect introduction. You don't need any other ingredients, just walnuts and pistachios. The natural oils in the nuts do most of the work for you!
Prep Time 20 minutes
Total Time 20 minutes
Ingredients
1 cup pistachios, shelled
1 1/2 cups walnuts
Instructions
Add the pistachios and walnuts to a food processor and process for 2 minutes.
After 2 minutes, if needed, scrape down the sides of the food processor bowl with a spatula and continue to process until the mixture if creamy. This can take anywhere from 5-10 minutes.
Once creamy, use a spatula to scoop the nut butter into an airtight container, such as a mason jar with a lid.
Store in the pantry for 1 - 2 months.
Notes
Some people like to soak nuts before using them in recipes or eating them raw. This is done because the enzymes in nuts are sometimes hard for the human body to digest.
If you wish to soak the nuts before using them in this recipe, soak the pistachios and walnuts overnight in a large bowl of water and cover with a dish towel. You will need enough water to cover them, generally 2 times the amount of nuts.
After soaking, preheat your oven to a low degree, such as 100 degrees F and arrange nuts on a baking sheet. Bake to dehydrate the nuts until dry (About 10-12 hours). You can also use a dehydrator for this process.
Recommended Products
This post contains affiliate links. I will make a small commission if you make a purchase through one of these links, at no extra cost to you.
Nutrition Information:
Yield:
16
Serving Size:
1
Amount Per Serving:
Calories: 108
Total Fat: 10g
Saturated Fat: 1g
Trans Fat: 0g
Unsaturated Fat: 8g
Cholesterol: 0mg
Sodium: 33mg
Carbohydrates: 3g
Fiber: 1g
Sugar: 1g
Protein: 3g
Nutrition information isn't always accurate. You may want to spot check this information.