Cranberry Pear Crisp
I go kind of nuts at the grocery store sometimes. I bought Pears & Cranberries just because they are in season with no plans to do anything with them. Once I got home I decided on this Cranberry Pear Crisp.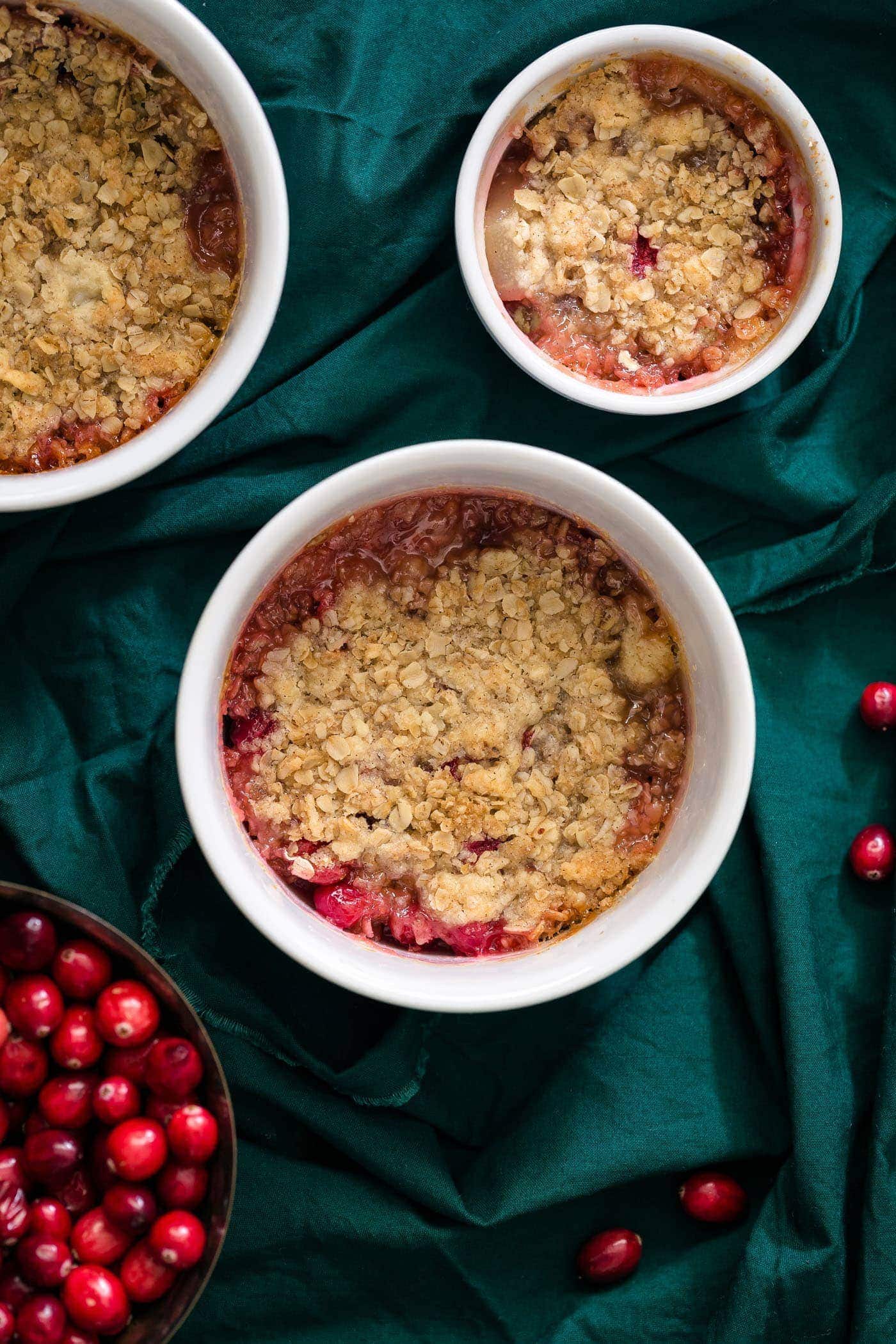 This recipe made two large ramekins and four small ramekins. I didn't have enough of either size to fit the entire recipe so I had to improvise. You understand I'm sure.
This would make a great Thanksgiving dessert or just anytime in the Fall when cranberries and pears are in their peak season.
The recipe itself is a bit tangy and then sweet. I rather like that combination, what do you think?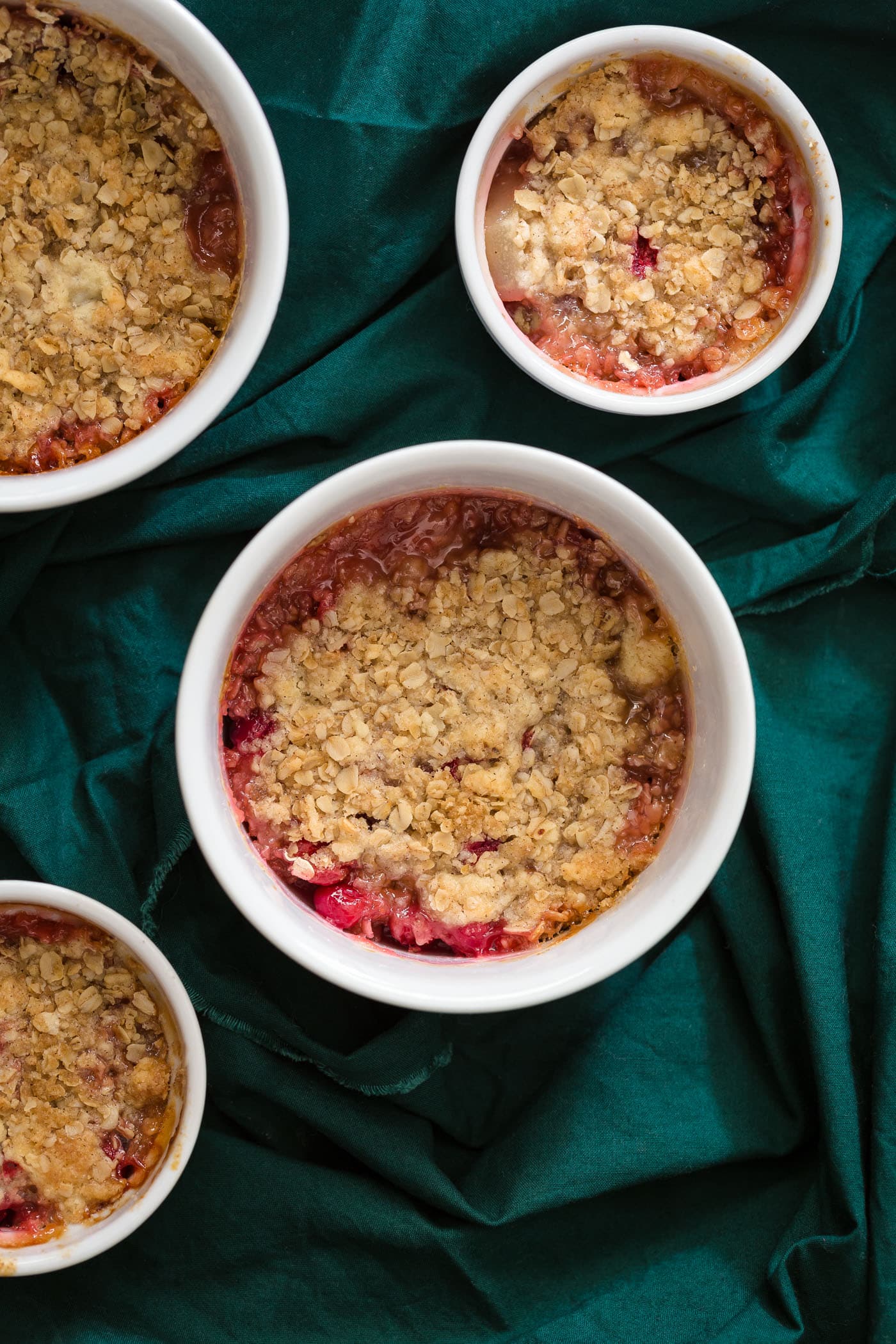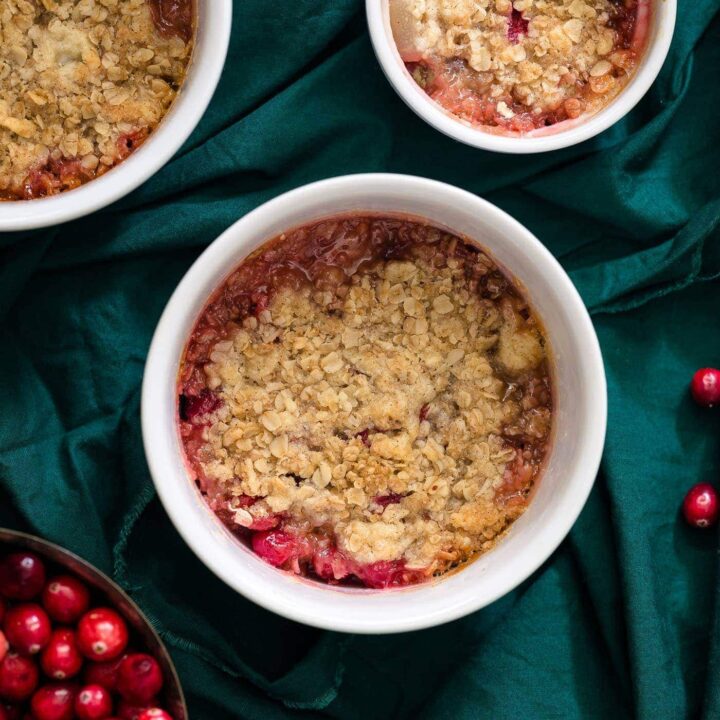 Yield: 6 servings
Cranberry Pear Crisp
Cranberry Pear Crisp is a great addition to your Thanksgiving or Christmas dessert spread. What a welcomed break from Apple or Pumpkin Pie!
Prep Time 15 minutes
Cook Time 25 minutes
Total Time 40 minutes
Ingredients
4 to 6 firm pears (6 cups), cut into 3/4-inch pieces
1 tablespoon fresh lemon juice
1 1/2 cups cranberries
1/3 cup sugar
1/2 cup flour
1/2 cup chilled (1 stick) butter
1/4 cup granulated sugar
1/4 cup light-brown sugar
1/4 teaspoon cinnamon
1 cup rolled oats
Pinch of salt
Whipped cream or vanilla ice cream
Instructions
Preheat oven to 400 degrees.
Peel and cut 4 to 6 firm pears into 3/4-inch pieces to yield 6 cups.
In a large bowl, toss pears with 1 tablespoon fresh lemon juice. Add 1 1/2 cups cranberries and 1/3 cup sugar; toss well.
To make Oatmeal Crisp Topping: In a food processor, pulse 1/2 cup flour with 1/2 cup (1 stick) chilled butter until pea-size clumps form.
Add 1/4 cup each granulated and light-brown sugar, 1/4 teaspoon cinnamon, 1 cup rolled oats, and a pinch of salt; pulse until large, moist clumps form, about 10 times.
Transfer to six 8-ounce ramekins (or a 3-quart baking dish).
Sprinkle with topping; bake until fruit is tender and topping is golden, about 25 minutes.
Let cool at least 30 minutes before serving.
Top with whipped cream or vanilla ice cream.
Recommended Products
This post contains affiliate links. I will make a small commission if you make a purchase through one of these links, at no extra cost to you.
Nutrition Information:
Yield:
6
Serving Size:
1
Amount Per Serving:
Calories: 355
Total Fat: 4g
Saturated Fat: 2g
Trans Fat: 0g
Unsaturated Fat: 2g
Cholesterol: 10mg
Sodium: 45mg
Carbohydrates: 80g
Net Carbohydrates: 0g
Fiber: 8g
Sugar: 50g
Sugar Alcohols: 0g
Protein: 4g
Nutrition information isn't always accurate. You should spot check this information.