Bacon Jalapeno Taco Layer Dip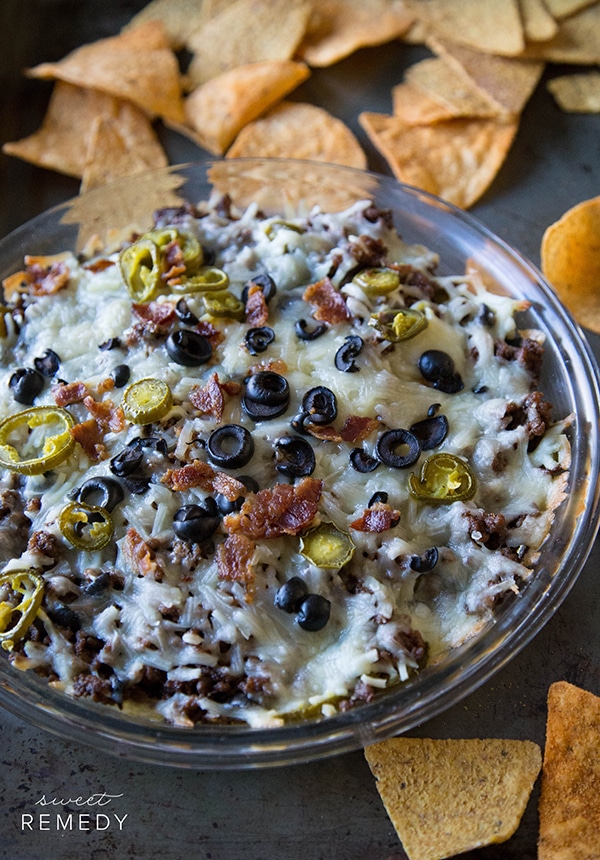 It's almost New Year's Eve! If you are looking for an easy appetizer for people to munch on while they await the clock, this recipe is for you.
My aunt gave me the base recipe for this Bacon Jalapeno Taco Layer Dip via text message while I was in the store shopping. I remember having it last year around the holidays and loving every single bite. I made it a little more exciting by adding some crispy bacon, spicy jalapeños and black olives. A perfect match, if you ask me.
The ground beef seasoned with taco spices is sandwiched in the middle of a layer of cream cheese and shredded mozzarella cheese. Mixed with the beef are crumbled bacon pieces, jalapeños, and olive slices. You'll want to reserve some of these additions to sprinkle on top of even more mozzarella cheese.
This dip can be made a day ahead and left in the refrigerator overnight. It will keep just fine. Since the ground beef is precooked you can heat it in the microwave or the oven. I'd throw it in the oven so the dip heats evenly and there aren't any cold areas. Although this dip is just fine warm or slightly cool.
If you don't like the spice of the jalapeños you can omit them completely or add something else. This dip is pretty versatile and can accommodate almost anyone's taste buds.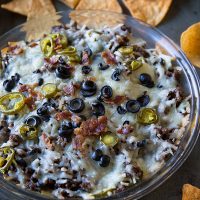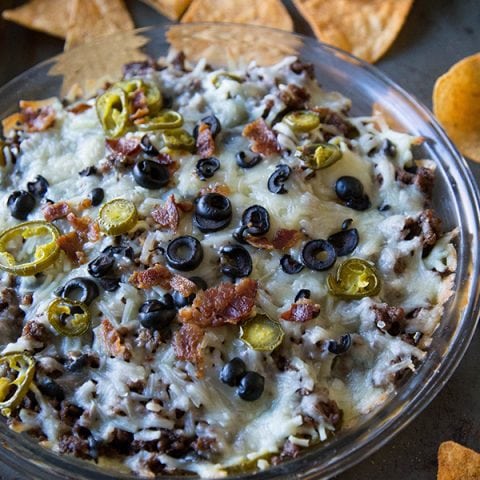 Yield: 10 servings
Bacon + Jalapeño Taco Layer Dip
If you don't like the spice of the jalapeños you can omit them and add something else. Be aware that once you add the jalapeños the spicy flavor will soak into the ground beef. This dip is pretty versatile and can accommodate almost anyone's taste buds. Omit or add anything you'd like!
Prep Time 30 minutes
Cook Time 20 minutes
Total Time 50 minutes
Ingredients
8 oz cream cheese
4-5 slices of bacon
1 lb ground beef
1 Tbsp chili powder
1/4 tsp garlic powder
1/4 tsp onion powder
1/4 tsp crushed red pepper flakes
1/4 tsp dried oregano
1/2 tsp paprika
1.5 tsp ground cumin
1/2 tsp sea salt
1 tsp black pepper
1/2 cup olives, sliced
1/2 cup jalapeños, sliced
1 1/2 cup shredded cheddar cheese
Instructions
Preheat oven to 350 ° F.
Line a baking sheet with foil and place bacon slices on top.
When the oven reaches 350, bake bacon for 20 minutes.
While bacon is cooking, layer the cream cheese in a 8" round dish with the back of a spoon, set aside.
In a medium skillet, brown ground beef and add in the chili powder, garlic powder, onion powder, crushed red pepper flakes, dried oregano, paprika, ground cumin, sea salt and black pepper.
Drain ground beef and set aside.
When bacon is dark and crispy, remove from oven and lay bacon on a plate lined with a paper towel to soak up remaining grease. It's easy to remove bacon with a pair of tongs.
Pat with another paper towel and set aside.
Break up the bacon into bit sized pieces.
Add almost all of the bacon, olives and jalapenos, reserving some for the top.
Layer the ground beef and bacon mixture on top of the cream cheese.
Top with shredded mozzarella cheese and remaining bacon, olives and jalapenos.
Bake in oven until cheese is melted.
Server with tortilla chips.
Notes
If you're making this recipe ahead of time and heating it up in the oven, it might take some time to heat all the way through. Make sure the center is hot before serving.
Recommended Products
As an Amazon Associate and member of other affiliate programs, I earn from qualifying purchases.
Nutrition Information:
Yield:
10
Serving Size:
1
Amount Per Serving:
Calories: 312
Total Fat: 24g
Saturated Fat: 12g
Trans Fat: 1g
Unsaturated Fat: 10g
Cholesterol: 86mg
Sodium: 510mg
Carbohydrates: 4g
Fiber: 1g
Sugar: 1g
Protein: 20g
Nutrition information isn't always accurate. You may want to spot check this information.