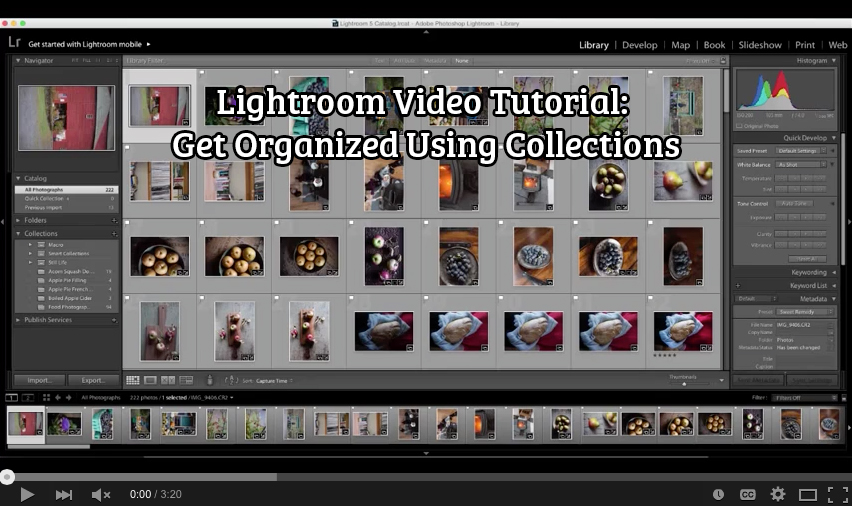 Lightroom is not only a powerful photo editing tool, it also has the power to keep you organized! If you are like me, that's an impressive feat as my desktop is completely cluttered with documents, folders and lots of photos. Collections make it easy to find the photos I need in a pinch.
The video above quickly shows how to create a collection and how to use them as an organizational tool.

Collections:
Collections are a grouping of sorts. Let's say you went on vacation or you worked with a client. You would most likely name your collection the location you visited or the client's last name. Then after importing all of your photos into lightroom you would add them to their corresponding collection. All of the vacation photos would go into "Paris, France."
In order to add a photo to a collection you simple make your collection the "targeted collection" and hit the "B" key! To add multiple photos to a collection you select/highlight them all, use the paint can and mark them and then hit the "B" key. The video above shows this in more detail so be sure to watch!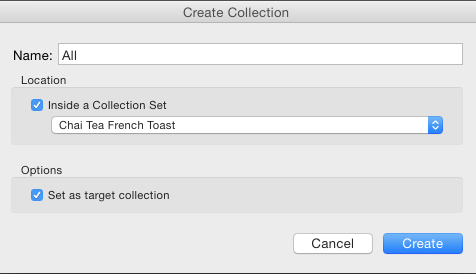 Collection Sets:
Collection Sets are very similar to collections, they are just a way to keep multiple collections that are related together. You can think of Collection Sets as the "house" in which other collections live. They are helpful if you like to separate all of the photos from the best photos. I use collections sets because I need that separation. It isn't enough for me to just mark the photos with a "x" for reject or a "p" for pick or use the color star rating system.
In the video above I show you how to separate the pictures into two piles, if you will. It may help to think of them as physical piles on your table. The pile on the left is all of the photos and the pile on the right are the best ones. The only difference is that the pile on the left will contain everything, even the photos that you've chosen as the best ones.
Sometimes it may be beneficial to do be more selective and cull your best photos even further. In this case you can create a third collection within your main collection set titled "Finals."
Need the 4-1-1 on Lightroom catalogs? Check out the last Lightroom video tutorial, Create A Catalog and Other Tips
If you have any other Lightroom questions, please leave me a comment below!
BEFORE YOU GO:
Stay tuned for more Lightroom Tutorials on my YouTube Channel! If you're craving inspiration, take a look at my portfolio!
For recipes, head over to Sweet Remedy. Don't forget to follow me on Instagram, Pinterest, Facebook or Twitter and check out my new Tumblr.